By: Chris Flook—
Muncie, IN—The Delaware County Historical Society will host its 2018 Annual Meeting on Thursday, June 21 at 6pm. The meeting will be held at Ball State University's Alumni Center. To celebrate Ball State's centennial anniversary this year, the DCHS is honored to have Dr. E. Bruce Geelhoed – professor of history at Ball State University give the presentation.
Dr. Geelhoed is the author of several books including Charles E. Wilson and Controversy at the Pentagon, 1953 to 1957 and the co-author of The Dragon and the Snake An American Account of the Turmoil in China, 1976-1977. He is also co-authored with Anthony Edmonds Ball State University: An Interpretive History and Eisenhower, Macmillan, and Allied Unity, 1957-1961. In addition to these works, Dr. Geelhoed is the co-editor of The Macmillan-Eisenhower Correspondence, 1957-1969. While at Ball State, he served as the history department's chairperson from 2004 until 2010.
In celebration of Ball State's centennial anniversary, Dr. Geelhoed will be speaking on former president Gerald Ford's visit to Ball State in March of 1985. Ford's speech signaled a new direction for both the public's perception of Ball State, as well as campus attitudes.
The DCHS hosts an annual meeting each June for members and guests. The meeting allows the board of directors to discuss the achievements of the past fiscal year, while discussing the objectives for the next.
Tickets are $22 for members and $25 for non-members.
Tickets are available at the DCHS and can be ordered online at: https://squareup.com/store/delaware-county-historical-society/item/annual-meeting-dinner.
 The event begins at 6:00pm with a cash bar and appetizers. Dinner and a brief business meeting will follow at 6:30. At 7:30, Dr. Geelhoed will begin his presentation.
To learn more about the DCHS, please visit: http://delawarecountyhistory.org/.
For any further questions or inquiries, email: contact@delawarecountyhistory.org.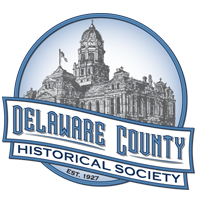 CleanCut Lawn and Landscape is this month's sponsor of non-profit stories found on MuncieJournal.com  Locally owned for over 33 years, CleanCut is your dependable, knowledgeable landscape company. CleanCut Lawn & Landscape. A better lawn. A better life!