By: Tiffany Clegg—

Alexandria, IN—The Curve Inn has been an Alexandria tradition for over 40 years.  We serve broasted chicken on Wednesdays and cod on Fridays like we have since the beginning.  While there have been multiple owners over the past 15 years, we have focused on bringing back the original atmosphere that is the Curve Inn.
We are extremely involved in the community and are extremely active with our school system. The Curve Inn is definitely the place to be after basketball, football, or volleyball games.  We pride ourselves in giving "The Curve Cares Scholarship" each year to deserving seniors.
In 2015, we opened a second location in Anderson at the Grandview Golf Course.  Our menus are almost identical—with a few modifications as business has seen fit.  We were voted Best Bar in Madison County in 2016, and have been nominated the past three consecutive years.
In 2017 we were voted Best Bartender and Best Server of Madison County.
In 2013 we went smoke free by choice, and found it was one of the best business decisions we ever made.
Our beautiful Key West Patio is the place to be on Thursday nights for our $1.25 draft beer and .70 wings.
Our weekly specials are as follows:
Monday-$1.25 taco
Tuesday– Italian, buy one get one half off pizzas
Wednesday– Broasted Chicken
Thursday- $1.25 draft beer .70 wings
Friday- Cod Fish
Saturday- Broasted Pork chops
Sunday – Broasted Jumbo Wings
Our Grandview location has live music on the patio every Tuesday and Friday.  Our beautiful dining room is typically rented on Saturday evenings for Class reunions, birthday parties, or weddings. The Curve at Grandview was a 2017 nominee for best Sit Down Restaurant.
Click the menu graphic below to open up our entire menu.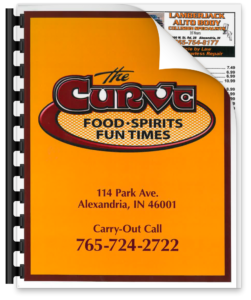 ---
The Curve Inn
114 Park Avenue
Alexandria, IN 46001
Ph: 765-724-2722
Click here to visit our website
Click here to visit our Facebook page