By: Mark Foerster—
This year, seven area high schools nominated six female and seven male high school seniors for the Second Annual Morry Mannies' Woof Boom Radio Scholarship. We want to congratulate each of the nominees for their achievements throughout their high school career. It was a thrill to watch these student athletes compete with emotion, sportsmanship, and character all year long in our coverage on WXFN 102.9FM & 1340AM Muncie's Sports Station and 103.7FM & 1240AM WHBU. The scholarship committee concluded that this year's winners of the Morry Mannies Woof Boom Radio Scholarship separated themselves from the other nominees as student athletes.
Jacob Brewer, of Delta High School, is one of the recipients of this year's Morry Mannies Woof Boom Radio Scholarship. During his high school career, Jacob has been a very accomplished tennis. His accomplishments include being named All Conference Doubles his junior and senior years, All State Doubles as a senior, and he helped Delta reach the team state finals as a junior. Off the court, Jacob is in the top 10 of his class, works two part time jobs, and is an instructor at a tennis camp. According to Delta's Athletic Director, Brett Clark, Jacob's hard working mentality as a competitor and student sets him apart from his peers. Jacob will attend Ball State University and plans on studying Accounting. Congratulations Jacob!
Mimi Arrington, of Yorktown High School, has also been awarded this year's Morry Mannies Woof Boom Radio Scholarship. Mimi was an integral part of the successful Yorktown Volleyball program in her four years. As a senior, she started on the state runner up team and was named to the All-State team. Mimi was the team's Mental Attitude award winner and a team captain. While succeeding on the court, she achieved top 10 ranking in her class and played a part in Dance Marathon benefiting Riley Hospital. Congratulations Mimi!
Woof Boom Radio congratulates this year's recipients of the Morry Mannies' Woof Boom Radio Scholarship. It is our pleasure to be able to support student athletes in this community.
Mark Foerster is Sports Director and Account Executive for Fox Sports Radio
---
Legendar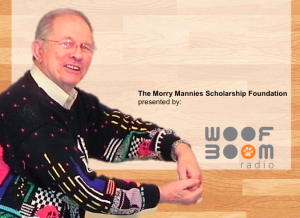 y Sportscaster, Morry Mannies, has broadcasted more than 5,000 games in East Central Indiana. Morry tells stories of triumph and heartbreak better than anyone. It is these stories that have prompted many young men and women to pursue their dreams. Imagining what is possible and hoping for a brighter and better tomorrow can transform a young person's future.
Several years ago, Morry retired from the day to day routine. 
Woof Boom Radio funds a scholarship program for the scholar athletes from the schools that we cover each year. A portion of the proceeds from the sponsorship of our high school sports are directed to The Morry Mannies' Scholarship Foundation. Student athletes that attend a school that Woof Boom has covered throughout the school year are eligible. Athletic Directors from these schools  nominate and select the Male and Female recipient each year.
The Morry Mannies' Scholarship Foundation is one way Woof Boom Radio is working with our community to build a stronger future here in East Central Indiana.