The Heartland Business Center just off I-69 near Daleville has had a most interesting economic development metamorphosis.
The massive 220,000 square-foot building was the former home of an outlet mall.
Two decades later, more than 700 people drive there every day, not to shop, but to work at cutting-edge businesses like Concentrix (formerly IBM), Element, First Merchant's Data Center, Indiana Finance Company, Boyce Forms/Systems, Keystone Software and Komputrol Software.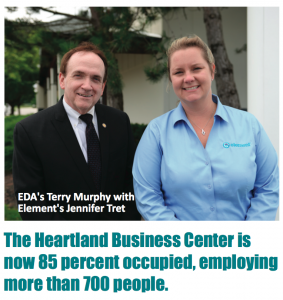 Through the work of Muncie-Delaware County Economic Development Alliance, the structure is approximately 85 percent occupied and exceeding even the grandest hopes of the shopping mecca that was originally intended.
Even more business will be courted in the future, thanks to development of a shell building that is ready to help a future tenant expand or locate.
The transformation
How this night-and-day transformation came to be is a story both mysterious and inspirational, where best-laid plans were rewritten by creative local officials and a giant lemon became lemonade.
Terry Murphy of the Muncie-Delaware County Indiana Economic Development Alliance, remembers how great excitement about the outlet mall's opening 20 years ago quickly faded.
"The outlet mall's struggles are hard to understand," Murphy said. "You would think the demographics were all there. But for some reason, it didn't generate the sales that were anticipated. There were 60 stores in the outlet mall in the best of times. There were a lot of part-time jobs."
"I don't know if they ever got to 50 percent occupancy," said Mike Galliher of Boyce Systems, a company that chose this site over possibilities in Anderson and Indianapolis. "I think there was just other competition. People found there wasn't that much margin difference in the pricing. I think the last retailer here was a guy who had NASCAR memorabilia."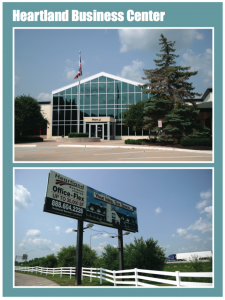 A trade was made that may go down in Delaware County economic history as one of the best bargains ever, while a David of sorts played a huge role in making the Goliath-like structure stand up to its potential.
Murphy said the Prime Group, original owners of the former outlet mall, ultimately sold the facility and then purchased the Edinburg oulet mall, essentially trading one for the other.
But the structure left behind was transformable thanks to help from the small nearby town of Daleville, population 1,700.
Town leaders recognized that as Delaware County's front door to Indianapolis, opportunity could be knocking if clutter was cleaned up and aggressive efforts were made to develop the area.
Murphy recounted how town officials worked with the Prime Group on infrastructure needs and establishing a tax-increment financing district. So, while the area was becoming marketable, a pool of money was established to keep it going – and growing.
Tax abatement incentives spur growth
A shell building constructed in part with TIF funds generated by the development is now waiting for a new business to join those operating in the former mall.
"A shell building is a great way to attract a new business," Murphy said. "About 70 percent of companies looking to expand will look for existing buildings. It can save them about six to eight months in construction time."
"The town of Daleville was great," Galliher said. "The town council was really the key on getting any abatement."
About the time the outlet mall's demise was complete, Galliher was shopping for a new location for his rapidly expanding Boyce Systems. The company had deep Delaware County roots that date back to its founding in 1899. But for a short time, Galliher entertained thoughts of moving it to Anderson or Indianapolis.
Then the former outlet mall got its first new tenant – the former Sherry Labs business now known as Element, that has clients in the aerospace, oil, gas and transportation industries all over the country. Soon, First Merchants Bank followed.
In Galliher's view, what the former outlet mall lacked was now in place for the facility.
"There wasn't a strong anchor when it was an outlet mall," Galliher said. "It just took one or two really good companies to make the roots here that brought the rest of us. Sherry Labs is a quality place with good ownership. First Merchants is a quality place. When I heard they were both going to be here, I said 'OK, those are going to be really good neighbors.'
"The buildings are really well made," Galliher continued. "They're solid. And the price was right."
Location, location, location.
The Heartland Business Center's location, right off I-69, has been a big plus for Element and Boyce – in different ways.
"It has allowed me to hire technology engineers and scientists," Element's Jennifer Tret said. "It gave me a larger resource pool. I think it's the location. It's not quite all the way into Muncie and not so far from Indianapolis."
While the facility has enabled Tret to reach out, the opposite is more important to Galliher. The building location has made a move to another community unnecessary, allowing him to keep his East Central Indiana team together.
"I didn't want to lose that intellectual value," Galliher said. "With some of our positions, it takes two years before a person is really productive. The learning curve is that extreme."
Tret remembers actually shopping at the outlet mall, never dreaming that it would someday be her work address.
"Even in 2006, there were still clothes hangers out," she said. "It was hard to imagine how we were going to put a test lab in there."
Today, the Heartland Business Center has given Delaware County a stronger economic pulse and something to build on for the future. "It's been a great transformation for the entire area," Murphy said.