With deep roots in Indiana, veteran radio broadcaster Jerry "J" Chapman is moving back to the Hoosier state and plans to return a network of six east central Indiana radio stations to local control by later this summer. A group of local investors, headed by Chapman, have formed Woof Boom Radio, a nod to the longtime dominance of WFBM in Indiana broadcasting from the beginnings of radio in the 1920's until the mid-1970's.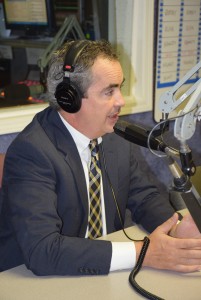 Once the acquisition is completed later this year, Woof Boom Radio will own and operate local radio stations throughout eastern Indiana serving the communities of Muncie, Anderson, Hartford City, Daleville, Yorktown, Alexandria, Pendleton, New Castle, Marion, and Gas City. Woof Boom begins operating the stations on June 1, 2013. Stations to be purchased by Woof Boom Radio include: WLBC (FM 104.1), Muncie; WERK (FM 104.9), Muncie; WXFN (AM 1340), Muncie; WHBU (AM 1240), Anderson; WMXQ (FM 93.5), Hartford City; and, WMQX (FM 96.7), Alexandria.
Recently formed Woof Boom Radio has strong local ties. The ownership team is led by Chapman and includes three other local businessmen: Ray Kennedy, Conormara Investments; Jason Farmer, Managing Director of WestBridge Investments; and Aaron Reitz.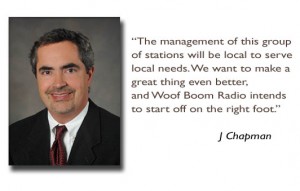 Woof Boom Radio is looking to make other strategic acquisitions in radio.
The acquisition of the six station group was announced today and is expected to be close later this summer, pending Federal Communications Commission approval.
A 17-year radio executive with Indianapolis-based Emmis and most recently with Maverick Media of Rockford, Illinois, Chapman is a graduate of Hanover and literally grew up in the broadcasting industry. His father led Indianapolis WFBM Radio & TV for three decades, and J got an early start in the media business when assigned by his father to mow the grass at the TV station's north side Indianapolis transmitter site.
"J Chapman will be a breath of fresh air for employees, advertisers, and listeners at the stations that will soon be part of the Woof Boom family," said Jeff Smulyan, Chairman, President, and CEO of Emmis Communications Corporation. "While J's leadership of our Fantasy Football team — the Smulyan Bay Buccaneers — left much to be desired, he is an astute and compassionate leader who is committed to local radio that makes a difference. I am delighted that J is coming back to Indiana."
Gary Rozynek, President and CEO of Maverick Media, had similar praise for Chapman and his leadership skills.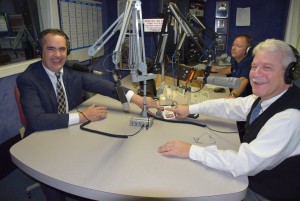 "I am thrilled that J has elected to pursue station ownership in Indiana. Having worked with him for the last eight years, he has demonstrated strong leadership and the ability to create value running our Rockford, Illinois assets. He is a values-driven and principle-centered manager who gets his employees to embrace the mission. J has a long history of success in broadcasting and I am confident that as his company begins owning and operating this family of radio stations, they will serve the community well and be their customers' best marketing partner," Rozynek said.
"I'm very excited to come home and put my years of experience in the vibrant radio industry to good use back in Indiana. The stations we're acquiring are vital links between listeners and the local community. We intend to utilize those radio resources to help grow our customer's businesses and to improve the quality of entertainment and information in our new communities," Chapman said. "Best of all, the management of this group of stations will be local to serve local needs. We want to make a great thing even better, and Woof Boom Radio intends to start off on the right foot."
Chapman worked as on-air talent in Indianapolis, South Bend, and Scranton, Pennsylvania and was part of the team that launched Indianapolis Fox TV affiliate WPDS-TV (now WXIN) in 1984. Joining Emmis Communications in the late 1980's, Chapman managed various sales teams and eventually led the Indianapolis radio sales organization.
"I believe that radio is an effective and unmatched way for those with a message to reach listeners. We will speak the truth, do our best, do what we say we're going to do, work with passion, and treat everyone with respect. Those are values that Woof Boom Radio will reflect with our employees, our customers, and our listeners," Chapman said.
"Radio works if it's authentic and local. You can hear passion and you can't fake it, Woof Boom Radio is not about programming from somewhere else into east central Indiana. It's all about truly caring about the community you serve. We understand that to be effective you have to be local. You have to listen to those who are listening to you. I'm truly excited about the opportunities ahead for Woof Boom Radio in the communities we serve. While each station that we'll acquire is slightly different, each has its strengths that we'll be building on. We want to be the best full-service option for the people who rely on truly local radio for their news, information and entertainment."