By Ben Polk—
MUNCIE, IN—PrimeTrust Federal Credit Union and Second Harvest Food Bank invite you to the tenth annual Soup Crawl. Held in downtown Muncie, on Thursday, October 6th, from 5 pm to 8 pm, tickets are available now. Tickets are being sold online at curehunger.org/soupcrawl.
Soup Crawl is a fun and festive local culinary celebration that benefits Second Harvest Food Bank's The Big Idea initiative. For just $20, Soup Crawl attendees can stroll the streets of historic downtown Muncie and sample 20 delicious soups from downtown and area restaurants, caterers, and organizations.
"PrimeTrust is a proud supporter of the work that Second Harvest Food Bank does across our community," said Ben Polk, a PrimeTrust employee, and organizer of the event. "We know that the needs people are facing are increasing by the day – and with the help of Muncie residents and local businesses, we anticipate Soup Crawl will generate more funding to meet those needs head-on."
The money raised during Soup Crawl supports Second Harvest's Big Idea initiative. The Big Idea initiative invites families to visit their child(ren)'s school once a month to engage with their teachers and staff. At the same time, they receive food and information or services from other essential community resources.
Neither Soup Crawl nor the work of Second Harvest Food Bank could happen without community support. Sponsorships and volunteer opportunities are available. Please contact Robby Tompkins (rtompkins@curehunger.org) if you are interested in supporting Soup Crawl or Second Harvest.
Limited spots are still available to join as a soup vendor at the event. Utensils and cups are provided, limiting the cost of serving your best soup to that of ingredients and your time. Contact Ben Polk ben.polk@primetrustcu.com for additional information.
To learn more about Soup Crawl and the participating restaurants, businesses, and organizations, please visit Facebook.com/SoupCrawl.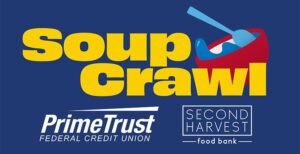 About PrimeTrust Federal Credit Union
PrimeTrust Federal Credit Union's mission is to provide financial advantage to members in a way that promotes their overall quality of life. PrimeTrust is a not-for-profit financial cooperative owned and governed by members. Deposits are used to provide loans to other members, and excess profits are reinvested in better-rates and low- and no-fee services. At PrimeTrust, stories matter. Stories like yours. You have goals for your family and your future, goals that deserve a financial provider who knows more about you than just your credit score. That's exactly the kind of personal attention you'll receive at PrimeTrust. As a National Credit Union Association (NCUA) community-charted credit union, PrimeTrust is able to provide membership to any business or person who lives, works, worships, or goes to school in Delaware County.
About Second Harvest Food Bank
Second Harvest Food Bank of East Central Indiana collaborates with 164 partners in Blackford, Delaware, Grant, Henry, Jay, Madison, Randolph, and Wabash Counties. The mission of the organization is to provide help for today by feeding the hungry and hope for tomorrow by addressing the causes of food insecurity while empowering people toward self-sufficiency; with a goal to feed East Central Indiana's most vulnerable residents through a region-wide network of member agencies and programs and to engage our region in the fight to end hunger. Each year, the Second Harvest Food Bank network provides assistance to more than 67,000 neighbors facing food or resource insecurity, including more than 20,000 children and over 5,200 seniors.