By Meridian—
 MUNCIE, Ind. – Meridian Health Services is excited to bring back Flu-Lapalooza, a One-Day FREE Flu Shot Clinic, on October 6, 2021, from 11a-7p at Meridian locations throughout Indiana.
Flu-Lapalooza will take place at Meridian locations in Anderson, Bluffton, Connersville, Dunkirk, Indianapolis, Muncie, New Castle, Portland, Richmond, and Rushville. Participants can enter to win a $50 grocery gift card to be given away at each location!
The flu shot is a vaccine is effective in reducing the number of illnesses, hospitalizations, and deaths attributed to seasonal influenza. With the COVID pandemic still surging, it is ALSO essential to receive a seasonal flu shot.
Meridian is providing FREE seasonal flu shots to those six months and older during this one-day event to ensure convenient access to preventative healthcare. No insurance is necessary and no out-of-pocket fees apply. You need not be a current Meridian patient to obtain a flu shot at one of our participating locations.
Please mark your calendar to receive your FREE flu shot during Meridian's Flu-Lapalooza one-day-only event on October 6 from 11am—7pm at the Meridian location nearest you. No appointment is necessary; walk-ins are welcome. Seasonal flu shots are available at each location while supplies last. For more information, visit meridianhs.org/flu-lapalooza.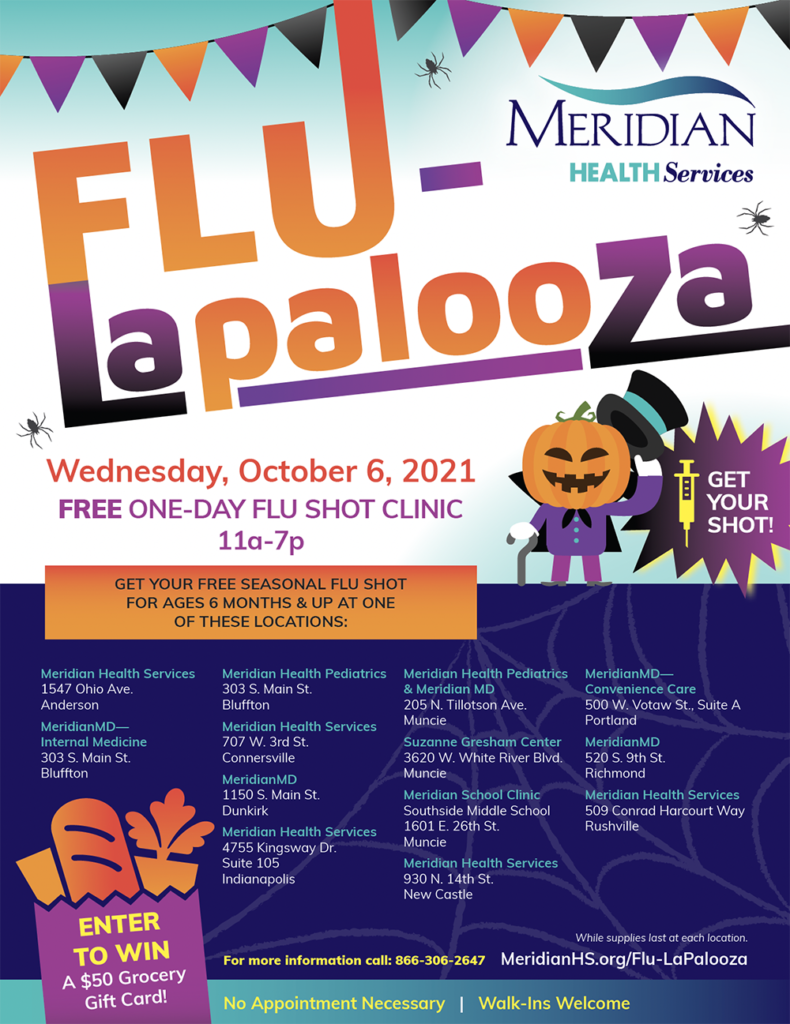 About Meridian      
Meridian Health Services is a regional, progressive healthcare organization specializing in "whole-person" health, integrating physical, mental and social well-being to help people achieve their optimum health. Meridian serves nearly 40,000 patients throughout Indiana offering a wide spectrum of healthcare specialties including: primary medical care, pediatrics, internal medicine, inpatient/outpatient psychiatry, obstetrics/gynecology, addictions and recovery, dental, children and family services, behavioral health and human services.