By BSU Marketing & Communications—
MUNCIE, Indiana – Grammy and Oscar award-winning singer-songwriter Tiara Thomas, a 2012 Ball State University graduate, is returning to Ball State as the next guest in the David Letterman Distinguished Professional Lecture and Workshop Series.
"A Conversation with Tiara Thomas" will be held at 7 p.m. Sept. 20 at Sursa Performance Hall on Ball State's campus, and will be livestreamed at bsu.edu/live. Free tickets for Ball State students, faculty, and staff are currently available at the College of Fine Arts box office in Sursa Hall. The box office is open Monday through Friday from noon-5 p.m. Tickets will be available to the general public starting Wednesday, Sept. 15, in person and at 765-285-8749.
In March, Ms. Thomas won her first Grammy award for co-writing the 2020 Song of the Year, "I Can't Breathe," in collaboration with singer-songwriter H.E.R. The following month, "Fight for You," another song co-written by Ms. Thomas and H.E.R., won the Academy Award for Best Original Song.
"We look forward to welcoming Tiara Thomas back to our beautiful campus as our next Letterman speaker," said Ball State University President Geoffrey S. Mearns. "At Ball State, we provide a personal educational experience that prepares our students to have fulfilling careers and lead meaningful lives. Ms. Thomas has taken that mission to heart. Her ambition and drive are an inspiration to all Cardinals."
An Indianapolis native, Ms. Thomas majored in Telecommunications at Ball State. She was first vaulted into national prominence in 2013, when she co-wrote, co-produced, and appeared on Wale's hit single "Bad."
During Ms. Thomas' visit to Ball State's campus on Sept. 20, she will work with students in the College of Communication, Information, and Media (CCIM) and the College of Fine Arts to workshop, record, and document original song productions. Her event that night at Sursa Hall will be moderated by Dr. Gabriel Tait, associate professor of Journalism.
"We are honored to bring Tiara Thomas back to Ball State for this incredible occasion," said Dr. Paaige Turner, CCIM dean. "This event serves as an extraordinary opportunity for our students and the broader campus community to see how her passion and purpose has propelled her to becoming one of the top singer-songwriters in the industry."
Masks will be required for all attendees, regardless of vaccination status. For more information on Ball State's COVID-19 policies, visit the Cardinals Care website.
The David Letterman Distinguished Professional Lecture and Workshop Series was established in 2008 through a generous gift from Mr. Letterman, a 1969 Ball State graduate. The series brings major business, media, and academic figures to campus to engage students in discussions about the latest issues in communications, emerging media, and cultural forces shaping our society.
Guests have included legendary newscaster Ted Koppel, Burberry CEO Angela Ahrendts, innovator Tom Kelley, and public policy expert Kathleen Hall Jamieson. Mr. Letterman has personally invited and hosted conversations with media icon and philanthropist Oprah Winfrey, Twitter co-founder Biz Stone, MSNBC prime-time host Rachel Maddow, and filmmakers Spike Jonze and Bennett Miller.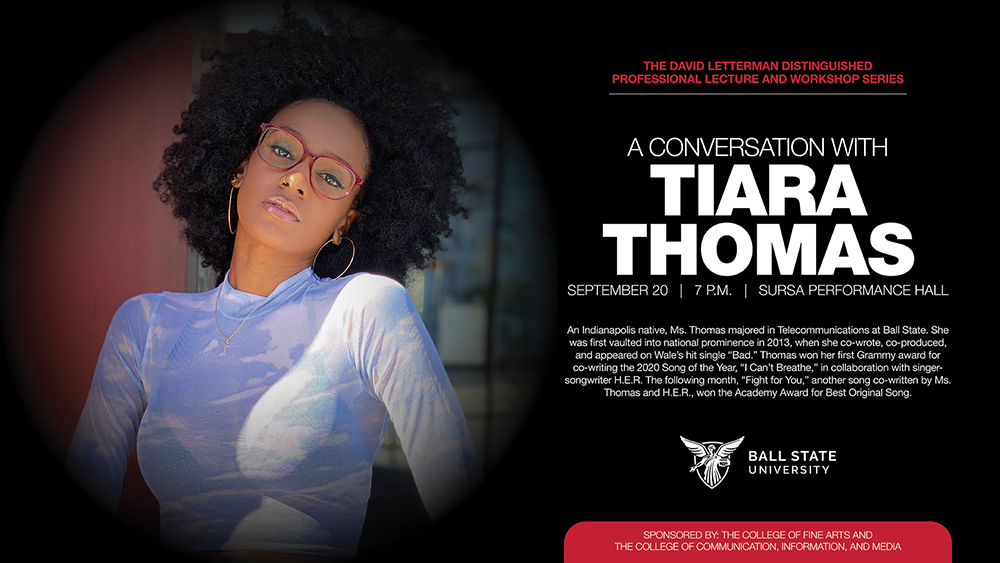 About Ball State
Founded in 1918 and located in Muncie, Ball State University is one of Indiana's premier universities and an economic driver for the state. Ball State's 21,600 students come from all over Indiana, the nation, and the world. The 790-acre campus is large enough to accommodate first-rate facilities and 19 NCAA Division I sports, but our welcoming and inclusive campus is small enough to ensure the friendliness, personal attention, and access that are the hallmarks of the University. Destination 2040: Our Flight Path establishes Ball State's ambitious goals for our second century. We Fly!