By: John Carlson—
In times like these – plastic times, fast times, digital-driven times that often seem like mindless, soulless, heartless times, too – I find a true sense of comfort in the act of sewing.
Not sewing myself, you understand.
I couldn't sew a button on a shirt without poking my fingers full of tiny holes that'd bleed all over whatever unfortunate fabric was involved. Meanwhile, knowing my typically colorful vocabulary when under pain and duress, I'd be spouting expletives that'd make the scandalized members of the ladies' home sewing circle hurriedly stitch themselves some extra thick earmuffs.
But my wife Nancy? Now that woman can sew, and does. It's not farfetched at all to say the overriding soundtrack of our domestic lives isn't the sound of our TV blaring or our dogs barking or our coffee-maker gurgling in the kitchen. It's the rhythmic, mechanical clacking of her trusty Singer's speeding needle.
Truth is, that's a satisfying sound.
Often for literally hours a day, she happily turns sheets of donated cloth into everything from hats for charity to cool costumes for plays, the latter while working with a small corps of dedicated Muncie Civic Theatre volunteer seamstresses. The joy she finds, I know, is transforming something that isn't much into something spectacular, just by combining skilled hands with her imagination.
Do many people (and feel free to call me a sexist pig, but I especially mean women) sew these days? Beats me, but I'd like to think so. Realistically, it's probably nowhere as commonplace as it once was. This would be for the same reason something as legendary as Indiana high school basketball isn't as popular as it once was, even here where for years that was a kid's key to the kingdom. There are just too many other readily available activities to compete with it now.
Anyway, it did my heart good the other day to leave my man-cave for a cup of coffee and find Nancy at our dining-room table alongside Jing Jing Williamson, who sat concentrating hard while huddled over her own small sewing machine. The daughter of two cool parents and friends of ours – Muncie Civic Theatre's Executive & Artistic Director Laura Williamson and IUBMH oncologist Michael Williamson – Jing Jing wanted to learn to sew. Nancy agreed to help.
Now, I'm not going to go into some belabored account of the hours they spent working together.
This is mostly because I spent them busily myself in my man-cave, keeping tabs on all my usual Facebook weirdos, munching Nutri-Grain Bars to bolster my strength and blasting holes in my eardrums cranking up my favorite Procol Harum songs on Apple Music.
But the fact is, by the time they broke for some yoga late that afternoon, Jing Jing had sewn a cover for a stuffed pillow, a cape that Robin Hood would have looked sharp in hightailing it through Sherwood Forest, and a beautiful plaid apron.  What's more, I would be willing to bet a shot of Wild Turkey bourbon and a wide slice of pecan pie with extra whipped cream that she'll wear her apron with pride on future Thanksgiving Days. It was a remarkable day's work for an eleven-year-old kid whose sewing experience had been quite limited.
Showing off her handiwork to me, by the way, Jing Jing absolutely beamed.
That's not to say she'll find whatever sewing she undertakes in coming years to be just one big party thrown by the folks at the JO-ANN fabric and crafts store. Even after years of sewing, Nancy finds new challenges along the way, encountering and overcoming problems she has never met before. And, hey, experienced seamstresses like her sometimes still manage to shed a little blood, needles being endemic to the sewing process.
This is an example that kind of shocked me. In an interview for a feature story long ago, a lady told me that once while making a quilt, she had sewn her finger to the cloth, but never felt a thing since after years of pushing needles, it was so callused.
That's dedication, folks.
Somehow when I think of sewing, it's that act applied to the making of quilts that truly touches me.  Ladies from our church, Holy Trinity Lutheran, regularly make quilts that are shipped off to the needy around the world, and I'd bet ladies from other congregations do the same.
What's more, I know how it feels to be on the receiving end of a newly made quilt. My sister Patty does, too, though we were never, ever numbered among the needy. But in my Grandma Millie Smith's dimly lit basement, not ten steps from the bulky old furnace, her jars of canned succotash and Gramp's tiny workshop, she patiently and intricately sewed a pink quilt for my sister and a blue one for me. We were just kids when she did this. Every day we were over there we'd go downstairs to check her progress, our quilts stretched out on her spindly wooden quilt rack. From my standpoint, it seemed to take her forever to finish, but once done, for years afterward I wrapped myself in that quilt every single night.
By the time I was in college it was ragged, literally in tatters from constant wear. Where mine ended up I don't even know, though now I wish I did. The same goes for Patty's.
But I do know this.
Long after they disappeared, and years after my dear grandmother's skilled hands were stilled forever, the love that wrapped us in such exceptional warmth survives.
---
John's weekly columns are sponsored by Beasley & Gilkison, Muncie's trusted attorneys for over 120 years.
About Beasley & Gilkison
We listen, analyze your unique situation, and prepare a course of action that best fits your needs. Contact one of our attorneys to schedule a consultation, or for more information, call 765-289-0661 or visit our Facebook page or website at beasleylaw.com.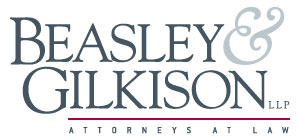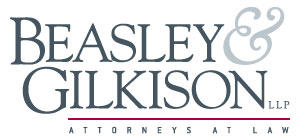 ---
A former longtime feature writer and columnist for The Star Press in Muncie, Indiana, John Carlson is a storyteller with an unflagging appreciation for the wonderful people of East Central Indiana and the tales of their lives, be they funny, poignant, inspirational or all three.  John's columns appear on Muncie Journal every Friday.