By: Mike Rhodes—
Muncie, IN—Gordy Fine Art and Framing Company offers expert design and craftsmanship for framing works of art and treasured family possessions, using the area's largest selection of frame moldings, which includes their original hand-carved and gilded frames. Owners Carl and Barbara Schafer have spent 25 years in the museum profession. They purchased the business in 2015 from Brian and Genny Gordy, who started the company in 1989. Their clients include museums, collectors, corporations, and individuals who know they can rely on them for high quality and timely service.
Gordy Fine Art and Framing Company can mount and frame just about any family heirloom, photo or 3-dimensional piece that is important to you. A Gordy framed piece makes an excellent holiday gift. If your project is a fairly sophisticated one that needs special materials to be ordered, they can still create your final piece if you have your item(s) to them by December 17th, for delivery by Christmas.
"One thing you get when you come to a store like Gordy's, is the fact that we will sit with you and "walk you through" your framing project," says Barbara "For example, we make sure things aren't touching the inside glass, and add preservation features to make sure not only are we framing it well so it is visually appealing to you, but we're also framing it well so it can last for years to come.
"People usually don't frame something and then take it apart in two years and put something else in the frame. That just generally doesn't happen," according to Barbara. "What we do well is tell you how to mount your item properly, so it will last for a long time."
Barbara said, "People walk in the door with items that are very, very special to them. For example, one woman brought in her grandmother's apron, pictures of her grandmother and some of her grandmother's writing. The customer wanted all of those items mounted in an attractive arrangement in a custom frame. Another thing we do quite a lot of is framing children's artwork, which is always special to a parent. Framing sports memorabilia is always popular, too."
The Preservation of Family Treasures
Carl says, "We focus on the preservation of family treasures. People have all kinds of artifacts that represent them throughout the course of their lives. We work with our clients to frame those items so they can be preserved for years to come. In fact, there have been times when customers have brought in wood from a barn that was special to them and we've used that wood to frame their item."
All of the staff have what Carl describes as an "expert design sense" that enables them to lead a customer to what will ultimately become a beautifully framed piece.
Glass is obviously important to any framing project, so Gordy Fine Art and Framing utilizes high quality glass for their projects. "We start out with an optical quality glass product," said Carl. "There are many different grades of glass. A cheap piece of glass can cause distortion, so we really emphasize using a high grade of optically clear glass in all of our work."
Gordy Fine Art & Framing Company also offers works of art made by artists with East Central Indiana connections. They are created in the artists' personal studios and are one of a kind or have limited print runs in the case of printed works. Gordy constantly adds new to their gallery. These range from mugs to scarves to paintings in all price ranges and make unique and memorable gifts.
Below you will find sample photos that feature custom artwork framing projects Gordy Fine Art & Framing Company has created.
Gordy Fine Art & Framing Company
224 E. Main St, Muncie, IN 47305
Phone: (765) 284-8422
Website: http://www.gordyframing.com
Facebook: https://www.facebook.com/gordyframing/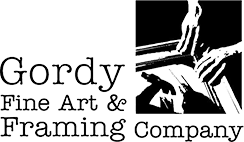 Related article below
Pink Floyd Original Handwritten Lyrics From "The Wall" Framed By Downtown Business