By J.R. Jamison—
The September 7th Concert will also feature Cliff Ritchey and Dan Deitrich
Muncie, IN—Josh Kaufman wowed national audiences with his soulful bravado on NBC's The Voice, and with Usher as his coach he went on to win Season 6. Now, The Facing Project will bring him, along with award-winning musician Cliff Ritchey and Dan Deitrich, to Cornerstone Center for the Arts for a one-night only Storytellers Concert.
On stage, Kaufman, Ritchey, and Deitrich will create an intimate atmosphere and share accounts about their music, writing experiences, and memories connected to each of their songs. Between the sets, actors will perform three different monologues curated by The Facing Project on the theme of "inspiration." These stories will include the local storyteller-writer teams of Andrea Mann and Liz Bergren; Beth Leavell-Davis and Chandra Ford; and Carol Boltz and Liz Boltz Ranfeld. Prior to the concert, 21 and over guests can attend a VIP meet-and-greet with the musicians that will include beer, wine, and snacks.
Tickets are $21 in advance ($25 at the door) for general admission, or $50 to receive the pre-concert VIP meet-and-greet with preferred seating, and can be purchased at give.classy.org/storytellerconcert.
About the event
WHAT: The Facing Project's Storytellers Concert
WHEN: Saturday, September 7, 2019, 7:00 PM
WHERE: Cornerstone Center for the Arts – 520 East Main Street, Muncie
TICKETS: give.classy.org/storytellerconcert
SPONSORS: The Facing Project, WLBC, Cornerstone Center for the Arts, Farmhouse Creative, Muncie Civic Theatre, Behavior Associates of Indiana, and LifeStream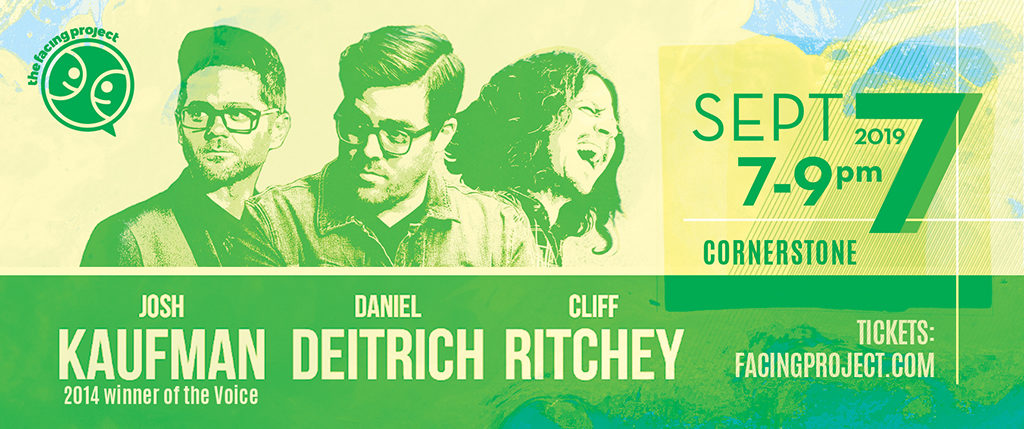 About the musicians
Josh Kaufman
For most of his life, Josh Kaufman has used his smooth, masterful vocals to uplift and inspire. As winner of the sixth season of NBC's The Voice, the Indianapolis-based singer/songwriter proved himself possessed of a stunning range and singular power to capture pure emotion. Also a longtime guitarist and piano player, Kaufman is now gearing up to release a debut album that channels his rich vocal work into a gracefully catchy blend of soul, funk, R&B, rock, and classic pop.
Cliff Ritchey
Cliff Ritchey gathers his songwriting inspiration from the simple country life he surrounds himself with in Markleville, Indiana. His desire is to connect with people on a deeper, more vulnerable level through his music. Cliff's writing career took off in 1999 as a rock & roll front man for the band AMDrive. His band was awarded the opportunity to be part of the American Music Awards Competition as one of the Top Ten Unsigned Bands featuring his song "Better Off Just Me."
Dan Deitrich
Dan Deitrich is a singer/songwriter based in South Bend, Indiana. His honest, heartbreaking, yet hopeful writing finds a home in massive Americana anthems, catchy Indie rock hooks, as well as intimate acoustic confessionals. Whether it's music, film, writing, or graphic design, Dan loves to create and to tell stories. He regularly tours with Josh Kaufman and Cliff Ritchey.
About the Facing Project
The Facing Project is a Muncie-based non-profit that creates a more understanding and empathetic world through stories that inspire action. Founded in 2012 by J.R. Jamison and Kelsey Timmerman, the organization has connected writers, storytellers, artists, educators, and community leaders in over 100 communities across the country to share first-person stories, to come together across difference, and to begin crucial conversations on some of the most pressing issues that divide us.
Through The Facing Project model, more than 7,500 people have collaborated to tell 1,500 stories (and growing) that have been used by schools, colleges/universities, clinics, theatres, and government, among others, to inspire action. Hailed by The Huffington Post as one of three oral history projects to watch, The Facing Project stories are archived in Special Collections at Ball State University and regularly performed on The Facing Project Radio Show on Indiana Public Radio and NPR.
Learn more at www.facingproject.com.