By: John Carlson—
A native of our city who has become an iconic Hoosier singer-songwriter over the past twenty years is the subject of a new book by Muncie Journal columnist John Carlson.
The book is "Jennie DeVoe On The Record: Friends, Music and Elvis Dust."
It is available for $18 from the merchandise table at Jennie's shows, or online at jenniedevoe.com. (Go to "record shop," scroll down to "merch" and the book will pop up to order. Or just click here.) Beginning next week, a banner at the top of the main page will automatically direct shoppers to the book.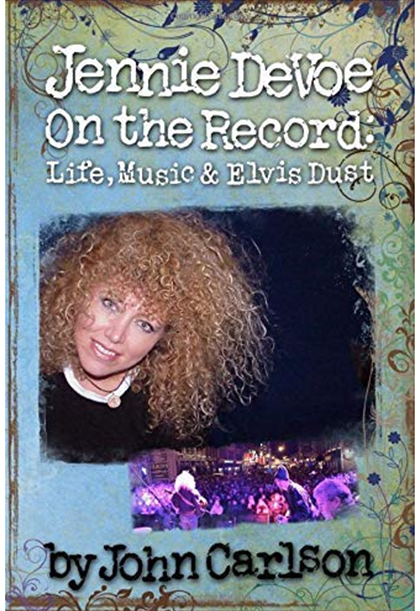 "I love the book," Jennie said recently, when interviewed before a show in New Castle. "I was so apprehensive to do it at the beginning because it seemed a little overwhelming to think about, but I absolutely love it."
Stories in it cover her life from a childhood performing Pogo Stick tricks for neighbors to present day, including her big break being hired to record songs for several years' worth of unique commercials for major retailer Meijer. No mere jingles, these songs were sung in any number of styles and had a musical appeal apart from their advertising potential.
Beyond that, the book also addresses Jennie's recording career, one that for her last three albums has taken her to England to work with producer John Parish, whose clients also include American star Tracy Chapman of "Fast Car" fame.
Along the way are stories about her interactions with singing stars like John Hiatt, Bonnie Raitt and a  personal favorite of hers, Randy Newman. Then there are stories of performing at Lilith Fair, of singing with the likes of Ziggy Marley, and opening for a certain fabled English singer by announcing to an audience of thousands, "Hi, I'm Joe Cocker!"
Stories of interactions with other folks important to her life – some well known, others not – are also detailed, including one with an auto racing superstar whose identity may surprise you.
"It's a great, eclectic bunch," she declared. "One of the things I was pleasantly surprised about was getting to read all the interviews with all of these people who've been in my life for so long, whether it's been my family, my friends, my bandmates or my producers. It made me really gratified that I've stuck to my guns and put my blinders on and just kept living this dream.
"I was a little hesitant at the beginning," she continued.  "It feels a little self-indulgent to allow a book to be written about your life as you still proceed with your career and dreams, but the way John did it took a lot of pressure off me. I really think the people he interviewed offer interesting things about their own lives, and the way our lives intersected, and not just about me. It makes me gratified to know all these people and have them as part of my family."
The book highlights Jennie's prolific songwriting career, too, which includes teaching songwriting classes, winning prestigious awards for some of her works and selling others as soundtrack numbers to successful television shows.
Her career, Jennie acknowledges, has been about following her own path with the aim of "singing for my supper." Writing those songs for her supper, too. Her life is an example for others wanting to follow similar paths.
"It's just that there is nobody who comes along to tell you that you're allowed to do that," she said, "and I think when you're growing up and you're young, you tend to look around for approval, and something in me let me notlook for that, and I'm really grateful for that. I would encourage anybody who has a talent that they want to exploit to just put their blinders on and follow their dreams. If there is just a passion in your life, it has to be part of your life as a hobby or your living. It's a little harder to make something like this your living, but if you are determined, it can definitely happen. I look at all the years I've been able to do this, and I just feel nothing but gratitude."
Jennie's dedication to promoting child- and animal-welfare causes is also highlighted. And all this from a woman whose raw talent was unknown even by her husband, Rob, until she volunteered to try out as lead singer for a makeshift band at his place of business. Now? She and her fabulous bandmates had just returned from playing blues festivals in Wisconsin and Minnesota, and had three more weekend gigs coming up, including at Indianapolis's Rathskeller restaurant, where she appears regularly.
"Things in my life are very busy," Jennie said, with obvious satisfaction. "'This has been my favorite summer so far. I can't explain it. Our crowds have been phenomenal."
But back to the book. Did she think it will become a best-seller and make its author wealthy?
"Yes," she reassured a grateful onlooker with her kindly, sympathetic smile, while he kept his fingers tightly crossed.
The following is an excerpt from "Jennie DeVoe On The Record: Friends, Music & Elvis Dust."
It was in 1992, now that both had graduated from Ball State, that she and Rob married and moved to Indy following a three-year courtship. Rob, whose employment history included being a roadie for singer Michael Jackson, went to work as a videographer for the Sanders Group. Jennie, in turn, landed a job at the recording studio rippleFX, but as a secretary. While it seems unfathomable now, not even Rob knew Jennie could sing, and neither did anyone else among their friends. That changed after the DeVoes were out one night, dining with friends from Rob's workplace who had formed a band. They made an announcement that, in hindsight, is hard to comprehend.
"Susie's leaving," they said of their lead singer, to no one in particular with Jennie sitting right there at the table. "We're looking for a girl singer … if you know anybody."
It was time to put up or shut up, to fish or cut bait, to … well, you get the idea.
"I sing," Jennie blurted out, recalling her husband was not just surprised by this sudden declaration, but doubtful. Later, Rob told her, "I'm not sure that's such a good idea." Jennie's response? "I just told him to trust me and come listen, and he did, and that was the end of that."
It wasn't long before the band, with Jennie providing lead vocals, was booked to play at the original  A Hard Day's Night Café, which was owned by Bob Kevoian of Q95's ultra-popular "Bob and Tom Show." An amazed Rob was sitting in the audience when his wife nailed number after number by Bonnie Raitt. Realizing immediately he was married to a woman with a special talent, he paid a visit to IRC Music the next day and bought her a gift.
"He brought it home," Jennie recalled, then wrapped it up and said, "This is what you're supposed to be doing."
Unwrapping it, Jennie found a microphone.
—End of excerpt—