By: Juli Metzger—
Muncie, IN—United Way of Delaware and Henry Counties kicks off its Delaware County 2019 campaign next month with a downtown celebration and outdoor concert by local music legends – Cook and Belle.
The concert – on Thursday, Sept. 5 – begins at 7 p.m. when the local headliners take the stage. Fun for the whole family begins at 6 p.m. with Charlie Cardinal, performances by Ball State's Code Red Dancers, and games. The event – now in its third year on Walnut Street – draws thousands to the downtown. Local brewers, The Heorot, Elm Street, and The Guardian Brewing Company are open and food trucks will be available.
Street closures will be Walnut Street from the south side of Jackson Street (Jackson will obviously remain open) to the north side of Charles Street (which will also remain open). The closure will begin at 9:00 a.m. (Adams street will be blocked about halfway between High Street and Walnut and Mulberry and Walnut).
The concert, sponsored by Ball State University, Magna Power Train, Muncie Power Products, MutualBank and Ontario Systems, takes place from  7 to 9 p.m. with brief remarks from United Way 2019 Campaign Chairs Liz Ludwick and Damon Elmore, of Muncie Power Products.
"It's a fantastic community event that builds awareness about United Way's work to put children on a pathway out of poverty," said Jenni Marsh, United Way's Chief Executive Officer.
The campaign's annual "Day of Action" follows on Sept. 6 when hundreds of volunteers – representing dozens of companies – spend the day making a difference for local nonprofits and see first-hand the work that United Way funding empowers each day. Individuals interested in volunteering can call United Way at 765-288-5586 or register online at: InvitedToLiveUnited.org/day-of-action.
Today, nearly half of Delaware County households live in poverty or are one crisis away from it. It's often a vicious generational cycle. These working families face obstacles in reaching health, education, and financial stability.
To conquer generational poverty, UWDHC has adopted the bold goal that by 2024 all third graders will be reading at grade level—the single greatest indicator of a child's success in school and life. Delaware County's campaign contributions will be strategically invested in local programs to help put children on a pathway out of poverty through better educational outcomes.
"By providing children with the early education opportunities they need, we are developing future economic growth, a strong workforce with employee retention, and a more prosperous community for all," explained Damon Elmore, himself a downtown resident. "This year's kickoff is a time to celebrate who we are as a community and the good work that goes on every single day here."
UWDHC provides free, educational resources to local families. They include bringing Dolly Parton's Imagination Library—a program providing children (ages newborn to five years old) with a free monthly, high-quality book—to Delaware County residents. There are almost 1,000 children enrolled in the program.
Additionally, United Way created Reading Clubs, placing passionate community volunteers in afterschool literacy clubs. Volunteers share their love of reading, while working alongside the students to improve their reading and comprehensive skills. UWDHC runs three reading clubs for third graders at local elementary schools. The interventionist clubs change the trajectory of students' reading skills early on.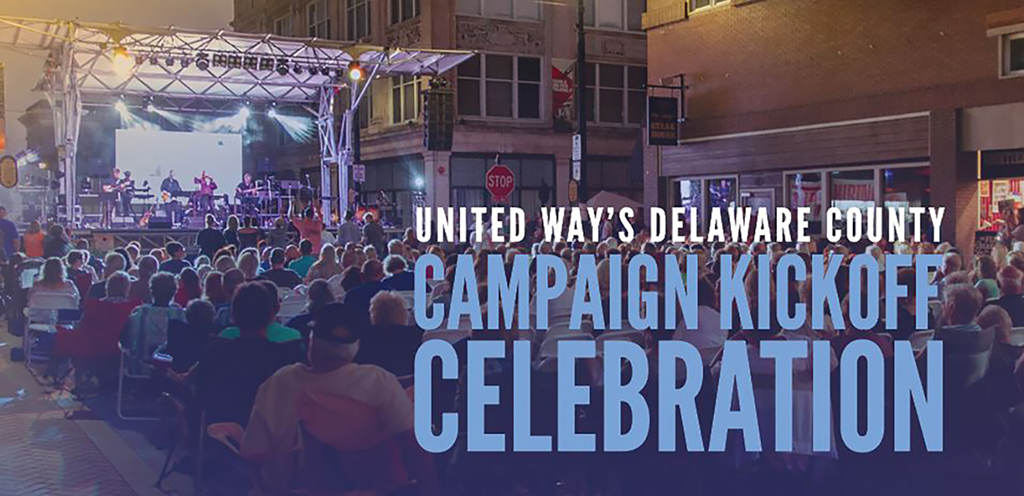 About United Way of Delaware and Henry Counties
United Way of Delaware and Henry Counties focuses its resources on education, health, and financial stability. The nonprofit fights to create lasting change in community conditions. With its bold goal to reach grade-level reading by 2024, United Way works to help children read at or above grade level by the end of their third-grade year. Learn more at InvitedToLiveUnited.org  invitedtoliveunited.org.