By: Mike Rhodes—
Muncie, IN—Muncie Mayor Dennis Tyler presented his 2019 State of the City Address at a breakfast held at the Horizon Convention Center on Tuesday, April 16, 2019. The 2019 address was Mayor Tyler's final one, after he decided not to run for re-election in 2019.
"My family and I want to thank you so much for everything you have given us and allowing me the opportunity to serve you," Tyler said. "It means a lot to me. In some way or another, this community has been a part of my life for 55 years. I appreciate that so much and the opportunity to serve."
Tyler chuckled about his very first State of the City address. "I took office on January 1, 2012 when I was sworn in," he said. "January 2nd was my first day in the office. Then, I got a call from the noon Rotary Club, asking me to give a State of the City presentation. I had only been in office  24 hours!"
Tyler spoke about many of the accomplishments his administration has made in partnership with many, many other community organizations represented in the audience that have partnered with the city to move Muncie forward.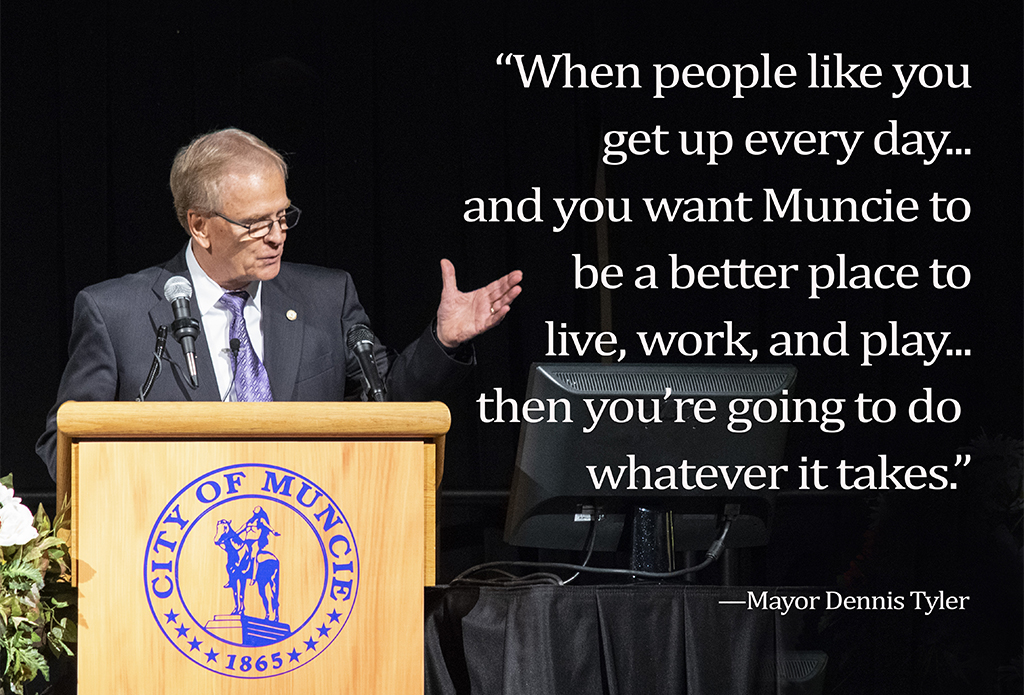 Tyler spoke about some of the successful economic development efforts that took place working with the Muncie-Delaware Chamber of Commerce, the Delaware Advancement Corporation (DAC), the Muncie Redevelopment Commission and other economic development partners. Tyler said figures from the Department of Workforce Development indicated that in 2012, 49,000 people were employed. In February of 2019, 52,700 people were employed. He said that equated to $700 million in new development and opportunities for people.
Among many others topics, Tyler highlighted:
Public Safety
Tyler said the Muncie Police Department averages about 72- 75,000 calls per year. He said additional education, training and new equipment such as body cameras and computers help to make sure "those men and women get to go home to their families. That's extremely critical and important to me." Last year the fire department made 7,500 calls and 5,300 first responder calls. The city invested in new tools for fire department first responders, a new rescue truck, and a new mobile pumper. The #1 fire station was renovated and "warming/cooling" centers were established within fire departments during extreme weather conditions.
Muncie Animal Care
Tyler said the Muncie Animal Care Center took in 3,301 cats and dogs in 2018. The live release rate was slightly over 97%. The center also rescued 633 cats and 283 dogs. The center received a number of grants last year and is considering adding an on-staff veterinarian and surgery center for animals. The shelter includes 30 adoption kennels and 38 holding kennels for dogs, plus 2 free roaming cat areas. All pets are spayed/neutered before they leave the shelter. The shelter has been nationally recognized for their live release rate, and is designated as a "no kill" shelter.
Parks Department
Tyler said the parks department will have about 1,500 children enrolled in programs offered by the parks department this year. "It's great to see kids out playing soccer," he said. "The parks department is partnering with Ross Center for baseball and has about 550 kids participating in that program." He said walking trails at Prairie Creek have been increased and made note that Prairie Creek Reservoir is the 2nd largest body of water in any public park in the United States.
Street Department
Tyler said the Muncie Street Department has filled 11, 527 potholes since 2012, graded 866 alleys, and paved 198 miles of roads. West Jackson Street is currently being milled and will soon be resurfaced. The Wheeling Avenue widening project is progressing.  New road projects currently in the works include new sidewalks/paving on E. 26th Street in addition to rebuilding Hoyt Avenue.
Downtown and Economic Development
Tyler said the downtown continues to see new growth and development. The downtown has a 92% residential occupancy rate and a 82% commercial occupancy rate. The Courtyard by Marriott is doing very well and is helping to attract a number of new conventions and conferences held at the Horizon Convention Center. The hotel generates $2.7 million in various taxes for the city.
Last week, Accutech announced they would be moving their headquarters to downtown Muncie and Delaware Dynamics broke ground for a new facility just south of downtown. The mayor indicated that various economic development partnerships helped make those projects happen, even when other counties around Muncie were lobbying hard for them.
The mayor also announced a new partnership with ACADIA Healthcare. The company was recently awarded a licensing permit to open a facility that will offer outpatient services for up to 800 residents a day who have problems with opioid addiction.
In closing, the mayor joked about the fact that he has 8 more months on the job.
"I'll be seeing you around," he laughed.
"Maybe on my bike, or the greenway, or downtown. Whatever you need me to do, I'll be there.
"God bless Muncie. God bless whoever will be our next mayor, God bless the state of Indiana, and God bless the United States of America."