By: Mike Rhodes—
Muncie, IN—Muncie is fortunate to have several community centers that benefit residents of all ages. These unique facilities provide a safe haven for kids and deliver life-changing programs and services to local residents.
Muncie-Delaware County Senior Citizens Center
The Muncie-Delaware County Senior Citizens Center is located at 2517 W. 8th Street in Muncie. The center is located in the former Forest Park elementary school. Judy Elton is executive director of the center. Elton says that 500-700 people typically attend the center every week. "In addition to our daily programming, we have a very community-oriented church (Dialogue Church) that rents our facility every Sunday," she said. "We have 3 different unions that hold their meetings here. We host a flea market here once a month and host a few large rummage sales here throughout the year."
Elton feels the Muncie-Delaware County Senior Citizens Center is a great resource for the local Forest Park neighborhood. By holding a number of free events throughout the year, such as dinners, ice-cream socials and holiday gatherings, the center can  "connect" with Forest Park neighborhood residents in meaningful ways.
The center's services and programming are vast and include: Yoga, line dancing, strength training, technology training, euchre, bible study, free legal services, loaner medical equipment and much more.
Elton says "Bingo" is a huge draw for people. "We have about 15 Bingo games a month sponsored by local businesses," she said. "People get more excited about Bingo, than just about anything else we do."
In addition, the thrift store is open M-F from 10am to 2pm. On the 2nd Saturday of every month, the thrift store is open from 9am to 2pm and everything is 50% off.
Elton said most months the Muncie-Delaware County Senior Citizens Center brings speakers in to talk about health topics, food and cooking with local chefs on all kinds of topics, local information, all sorts of history topics, the arts, and more. The center shows anywhere from 2-5 movies a month, too.
"We are looking for people who could share their own expertise and teach a one-time class on topics ranging from collecting WWII memorabilia, to basket weaving, to repurposing items into art, to the art of pie-making, etc.," she said.
If you are interested in volunteering to speak or teach a class, or if you'd like to receive a newsletter that includes all activities of the Muncie-Delaware County Senior Citizens Center you may contact Judy Elton at 765-289-0844. Visit their Facebook page here. 
Ross Community Center
The Ross Community Center is located at 1110 W. 10th Street in Muncie. Jacqueline Hanoman is the executive director. The Ross Community center serves individuals of all ages through unique and diverse learning experiences. Since 2017, Ross Community center has operated a free preschool program, which currently serves 10 children. Their program serves both the emotional and academic needs of the children.
"We also have an after-school program," said Hanoman. "We call our after-school program 'KidVentures' where we work with the kids utilizing a one-on-one mentoring style." The KidVentures program allows Ross Center staff and volunteers to work with the children and provide them with "what they need as individuals."  Instead of a typical after school program, where there may be 70+ kids, the Ross Center's after school program typically mentors about 30 children. While academic enhancement is part of the program, there are daily "fun things" to do and experience. Like dancing, or music, or special guest visits—including "Jackson the therapy dog."
As a true "community center" serving the entirety of the community, Ross Community Center offers sports activities for adults, fitness programs, business entrepreneurship classes and drug prevention classes among others. The center also hosts Thomas Park/Avondale neighborhood association meetings.
If you are a regular MuncieJournal.com reader, you've probably seen some of our past coverage about the many improvements being made at Ross. New softball fields opened last year and over 350 kids played softball on the new fields. The improvements are part of a 5-year master plan which will include the development of youth soccer fields.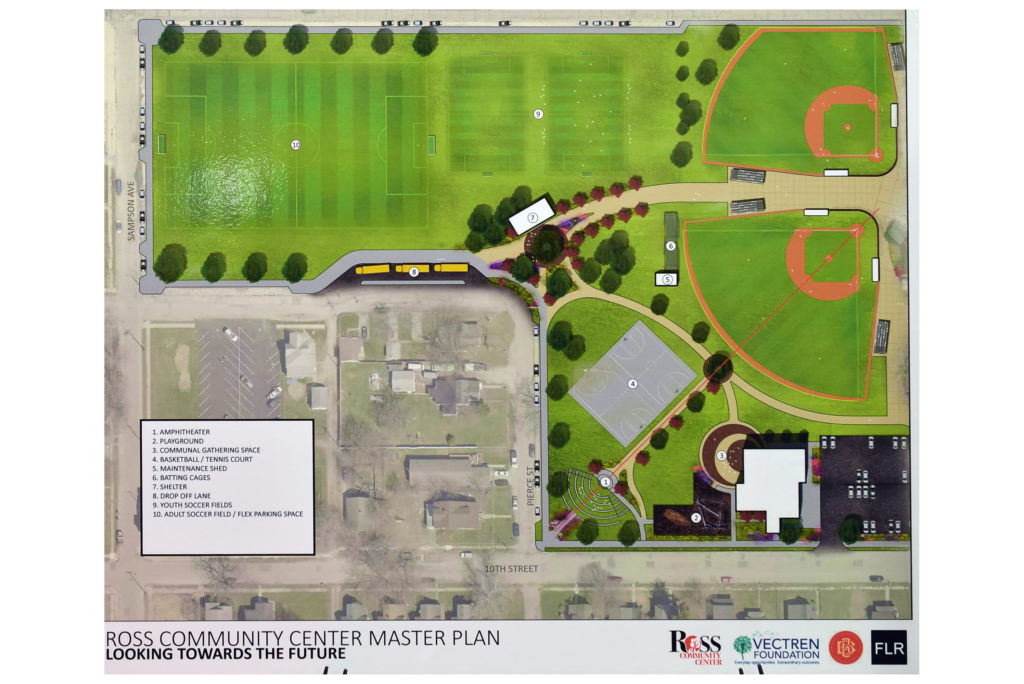 A new amphitheater is in the works and is expected to be finished this spring. The amphitheater will further strengthen community engagement with people of all ages, with its concerts, art and theater performances.
For more information visit https://www.facebook.com/RossCenterInc/
Roy C. Buley Center Unit of the Boys & Girls Club of Muncie
The Roy C. Buley Center is located at 1111 N. Penn Street in Muncie. After several years of unique collaborative endeavors, the Boys & Girls Club of Muncie and the Roy C. Buley Center merged staffs, curriculum and boards of directors. The Buley Center retained its identity and its name, becoming the Roy C. Buley Center unit of the Boys & Girls Club of Muncie.
Qiana Clemens is the COO for the Boys & Girls Club of Muncie. She said the opportunities at the Buley unit include programs such as modern band, (where students learn to play musical instruments), karate, dance, musical engineering, and traditional sports such as basketball and volleyball.
Many people are familiar with the Boys & Girls club on Madison Street, but the club has units that provides programming across town, including the middle schools and high school.
"We want people to know the Buley Center is open and provides the same types of services it used to, even with the merger with the Boys & Girls Club of Muncie," said Clemens.
For more information, visit http://www.bgcmuncie.org
The Unity Center
Although the Unity Center no longer operates out of their former physical building due to its disrepair, executive director Yolanda Taylor says Unity Center programming is taking place at Price Hall through a partnership with the Muncie Housing Authority. "We also have programming inside the cabins located in the City of Muncie's Parks through the Parks Department. We are operating on a mobile basis…we go where there is a need.  I typically contact parents to let them know what we are doing, and where we will be as far as our programming goes."
Taylor said the purpose of the Unity Center's programming is to strengthen the community, and address social ills. "We are collaborating with a wide range of partners to offer our programming," she said. "We are looking to the community to try and help us find a permanent building, so we can continue to help our kids."
If you are interested in helping the Unity Center with a new building option, or would like more information on programming, you may contact Yolanda Taylor at this number: 765-215-1593.