By: Shannon Henry—
When I became your County Commissioner four years ago I vowed that I would be a commissioner who works for you. That hasn't changed. It has always been my priority to make good decisions based on the best solutions for the residents of this great county. Public service is my passion, I take it very seriously.
I've been serving the citizens of Delaware County for the past 33 years. At the early age of 18 I began volunteering with Albany EMS. After high school I worked a brief stint at Midwest Metal with my dad. It was a good job, but just not the job for me. Public service was calling and I answered. In 1987 I accepted a position with Delaware County EMS as an EMT. My time there was bittersweet. While I made lifelong friends for which I am grateful, it was a very intense job. Some days were harder than others. The experienced I gained from my time at EMS had a profound impact on my life as a public servant. I served there for five years.
In 1992 I accepted a position with the Albany Police Department and in 2002 at the age of 35 was appointed Town Marshal. These past 16 years have taught me much. Good leadership is important. Making hard decisions are tough! You have to look at all angles, abide by the law and do what you think is in the best interest of the community. Listening is an important key, but you must be able to sort out all opinions and make sound choices based on facts. This is how I work every day as a police officer and as your commissioner.
Over the past four years the commissioners have accomplished some great things for Delaware County. In 2015 we appointed Nate Jones, an Army Veteran, to serve as the Veterans Affairs Officer. Nate has turned this office around and with the help of two full time staff members along with several volunteers serves over 150 Veterans monthly. This office is a vital part of Delaware County Government and I consider it a priority.
The commissioners' economic development team is diligently working to attract businesses to Delaware County. The recent announcement of Filtrec SpA's decision to locate their North American Headquarters in Daleville is the result of this team's dedication to growing our county. The commissioners have created 279 new jobs and put 14 significant properties back on the tax rolls. We have pursued and collected over one million dollars on incentive paybacks from non-performing companies which is more great news for Delaware County.
Over 400 lane miles of Delaware County roads have been paved or resurfaced during my term. We must maintain and repair our infrastructure for our future. County government has applied for and received two grants from the State of Indiana totaling more than 1.7 million dollars which is helping us continue to make improvements.
I currently serve on the Delaware County Drainage Board, The Muncie-Delaware County Planning Commission and the Delaware County Fair Board.
I want the citizens of Delaware County to know that I am committed to keeping Delaware County EMS serving all of Muncie and Delaware County. The experience associated with this organization is second to none and our citizens deserve the best service we can possibly give them.
Along with the other commissioners I am dedicated to finding a responsible resolution to the jail problem without raising taxes. Please know that we understand that fiscal responsibility is vital to the success of this type of project and we are prepared to watchdog any project from beginning to end.
I would appreciate your vote on November 6th to keep experience and honesty in the commissioners' office.
Shannon N. Henry
Delaware County Commissioner District #3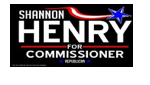 The Muncie Journal provides political candidates the opportunity to introduce themselves.  The Muncie Journal does not endorse this or other candidates and is not responsible for the content of the candidate's statement.