By: Friends of Mike King—
Raised in Selma, Mike King was brought up with small town Hoosier values that keep him centered and focused on working hard for our community. Having served as a Board Member and volunteer for many non-profit community organizations, Mike knows what it means to make sure that every dollar is utilized efficiently.  Mike proudly promotes volunteerism and public participation for the good of our community.
Three years ago Mike began a journey to utilize his sixteen year financial background including as a Bank Assistant Vice President and Branch Manager, to make a positive impact and to serve our community. As your Delaware County Clerk, Mike King is proud of the many accomplishments in the County Clerk's Office and Mike knows that working together we are on the right path to achieve many more.
The Clerk's Office has realized the most wide-ranging modernization to our Court system at no cost to the taxpayers and property owners. With the implementation of a new case management system, electronic filing gives every Delaware County resident access to justice, access to court records, and access to our Courts 24 hours a day.  As your County Clerk, Mike King promotes the efficient access to justice.
As your Clerk, Mike will continue to work with employers and individuals to improve child support payment options by focusing on payroll deductions and online payments. Mike strongly believes that our children and grandchildren need to be given every opportunity to have a better start through education and nutrition for the purpose of helping our future generations become future leaders which will benefit our entire County.
Mike continues to focus on reducing governmental expenses, enhancing governmental services, and assuring taxpayers and property owners are getting the full return on their hard earned monies. That includes returning thousands of dollars to the County General Fund. Mike believes that government must be open and accessible, and must be fiscally responsible, for the purpose of attracting potential investors to our community.  Mike King believes by working together we can make Delaware County a place where businesses can locate and create jobs.
As your Delaware County Clerk, Mike King has been instrumental in a major undertaking for protecting and improving your experience during the voting process. Mike has worked with a bi-partisan group to streamline procedures for poll workers on Election Day, has worked with bi-partisan members of the Election Room, and has worked through outreach programs to educate High School students on the importance of becoming a registered voter and an active voter.  Mike knows the open access to the polls and the right to vote is a fundamental American right.  All Americans must exercise their right to vote.
Mike's efforts as your Delaware County Clerk have not been unrecognized. The Indiana Association of Clerks of the Circuit Court elected Mike to serve as an officer in our Northern District.  Mike continues to serve on the State Clerk's Association Audit Committee.  Indiana Supreme Court Justice Rush appointed Mike to serve on the State Court Personnel Committee.  Mike has been asked to assist the Office of State Court Technology with training and implementation of a new case management system.
Mike King strongly believes that it is a privilege to serve as your Delaware County Clerk. Mike is committed to working hard every day to provide the most efficient and improved services, to continue to modernize government, to continue to be a financial steward of your hard earned money, and to continue to work on your behalf and on behalf of your children and grandchildren.
Mike King requests your support and vote to be re-elected to the office of Delaware County Clerk.
Government must be more efficient, must be more responsible, and must be more representative to the public needs.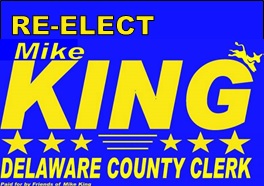 Paid for by Friends of Mike King
The Muncie Journal provides political candidates the opportunity to introduce themselves.  The Muncie Journal does not endorse this or other candidates and is not responsible for the content of the candidate's statement.