By: Stephen Mortland—
Muncie, Indiana—Twilight on the Boulevard is a new benefit event to support Minnetrista's enduring vision. Enjoy food and beverages provided by local restaurants such as Vera Mae's, Amazing Joe's Grill, The Neely House, Minnetrista catering, and more.
Walk Minnetrista's beautiful lamp lit Boulevard, and take in live music by Indianapolis Jazz Orchestra, Clay & the Chameleons, Paul Reilly, and others. While you listen to the music and enjoy the delicious food, try your hand at one of the activities spread along the Boulevard, offering you chances to win prizes. Settle down with a signature cocktail and chat with friends or win a prize bottle of liquor at the ring toss, there's something available for everyone.
"We're always excited to bring new experiences to our guests at Minnetrista," says Bob Scott, Vice President of Philanthropy. "Twilight on the Boulevard offers a really unique, fun night out for adults, with the one-of-a-kind backdrop of the historic Ball family homes. And, just as important, we'll be raising funds to support even more awesome adventures for families and future visitors.  We hope you'll join us!"
Come together with the clever and the curious to enjoy a dazzling evening on the Boulevard and help support Minnetrista's continued involvement in the Muncie community.
Twilight on the Boulevard is a 21-and-older event. Cash bar will be available. Tickets are $60 per person and are available at minnetrista.net.
Presented by: First Merchants Private Wealth Advisors, eKeeper Systems, and MutualBank.
For more information, visit minnetrista.net or call 765.282.4848. Follow us on Facebook and Twitter for the most up-to-date information on our exhibits and events.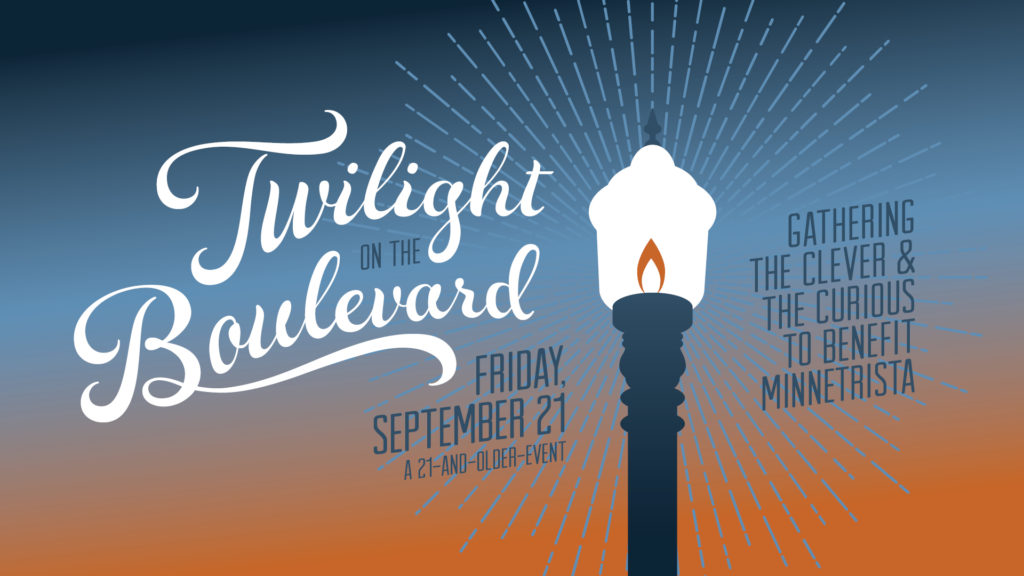 Located along historic White River, Minnetrista includes 40 acres of beautiful gardens and grounds, a modern museum facility, a historic home, Nature Area, numerous sculptures, and a portion of the White River Greenway. Minnetrista serves East Central Indiana with dynamic community activities and exhibits that honor and reflect its natural and cultural heritage. For more information about Minnetrista, visit www.minnetrista.net.