By: Madison Smalstig—
Yorktown, IN—To most, swimming is a pastime, something that they do to cool off and escape a hot summer's day. To Emily Weiss, swimming is a passion.
While others may be spending their summer weekends at a lake in Indiana, Weiss will be spending a long weekend in Fiji competing for Team USA in the Junior Pan Pacific Games later this month as a result of her passionate pursuits.
Although Weiss is a high school student with other obligations, outside of school most of her time is dedicated to swimming and training. Weiss began swimming competitively at the age of 8. Her parents recognized that she was a natural athlete and a natural "water bug," so the decision to have her compete was an easy choice. During these first years, she rapidly improved and excelled. 
Three years after she began competition, Weiss qualified for state, proving to her parents what they already knew: she was destined to swim. This moment also convinced Weiss that swimming was a sport worth pursuing even harder. As a girl who loves working hard and being at the top of her game, swimming seemed like the perfect fit.
Weiss continued to work and listen to her coaches. She returned to state every year and each time she came back better than before. Locally, she began rising above most of the people she competed against and by 2016 Weiss was ready for a bigger challenge next to nationally ranked racers. She found that next level at the Olympic Trials. 
To make Olympic Trials Weiss had to meet the time standard for her specific event during any swimming event. Although she did not qualify for the Olympics, being there and competing with the best of the best nationally and being one of the youngest people there really taught her about her swimming abilities. 
Even though swimming has kept Weiss busy over the last few years, she describes her experience in the pool as peaceful. "Swimming is my happy place," said Weiss. "I can do something I love while clearing my mind." 
Her favorite part of the race, however, is the finish. Weiss works so hard and all of it adds up to one time for her to get it just right. A great mixture of emotions swirl in her head before every single race and when she finally hits the wall, she gets to let all of it go. "[Before the race] I feel like I have weight of the world on my back because I have had a year or couple of months worth of training leading up to that competition," said Weiss. "When I touch the wall I mainly feel relief."
This year, when she hit the wall for her final event in the Phillips 66 National Championships in Irvine, California she was able to see a time that would allow her to compete for team USA at the Junior Pan Pacs in Fiji August 23-27. The Junior Pan Pacs feature the best junior swimmers from the United States, Canada, Australia and Japan and have routinely been a springboard to international success including Olympic medals. At the Phillips 66 National Championships, she placed seventh in both the 50-meter and 100-meter breaststroke, although she almost wasn't able to compete in the finals for the 100-meters. 
After the preliminaries, an official told Weiss they were reviewing her swim for a disqualification due to multiple underwater leg kicks at the start. Although the ruling was overturned, proving that Weiss only did one kick, it wasn't overturned until 30 minutes before the final race, adding some additional drama to her already hectic competition.
Weiss learned a lot from this experience, specifically how to handle those difficult situations. "I wasn't as mentally prepared as I could've been and the outcome was a little rough for me," said Weiss.
Regardless, on August 23 – 27, Weiss will be competing in the 100m and 200m breaststroke (the Junior Pan Pacs does not have a 50 meter breastroke event) and the medley relay for Team USA and she will be stronger than ever. Even though she faced a big test and some drama in Irvine, she is using that experience to prepare her for even better races in Fiji. 
"It's good to go through something like that even though it was a false alarm just so you know what to do in such a high risk situation," said Weiss. "I know how to take care of my body and my mind now that I have gone through it."
As a girl who has the short term goal of setting another national record and long-term goal of medaling at the Olympics, she has to set high expectations for herself. But for this race, she is working hard for something more than self-gratitude: Team USA. 
While most of her east central Indiana fans will be cooling off with a swim in August, Weiss hopes her times stay hot while in the pool in Fiji. It's the next step for Weiss in turning a pastime into a passion and ultimately into Olympic medal perfection.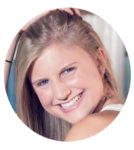 Madison Smalstig is a graduate of Yorktown High School and is majoring in Journalism at Indiana University in Bloomington, IN. Madison is a recipient of the 2018 Lilly Endowment Community Scholarship.