By: Lorri Markum—
Muncie, IN—Meridian Health Services will host area's largest Health & Fun Fair and Ducky Derby this Saturday, August 25, 10 a.m. to 1 p.m. at the Suzanne Gresham Center. The carnival themed Fam Fest brings fun and excitement to the family festival's 11thannual celebration with clowns, face painting, carnival food and more!
Fam Fest, presented in partnership with PrimeTrust Federal Credit Union, consists of two events to raise awareness of health, wellness, community resources and the prevention of child abuse, as well as raise money for Meridian's Child Advocacy Center.
The day will kick off at 10 a.m. with the Ducky Derby–"Race Against Child Abuse", a corporate duck race presented by Muncie Sanitary District that includes 8-foot giant ducks racing along the White River and finishing across the street from the Health and Fun Fair. Located at the Suzanne Gresham Center, 3620 W. White River Blvd., the Health and Fun Fair provides health information, resources and screenings from some of the area's best vendors.
This year, Fam Fest's Carnival theme includes:
Free games and prizes
Livemusic
Sports clinics in basketball, football, baseball, cheer, volleyball, and Zumba run by local teams and organizations
Mascots and fairy princesses will meet and greet fans of all ages
A performance by the Cowan High School marching band
Health Hub offering more than 10 different FREE health screenings and educational talks
Anthem's Blue Ticket to Health: Win autographed Colts memorbilia
Vendor booths from more than 40 various community organizations
Real Sprint race car on-site
Like previous years, attendees will also enjoy games, inflatables, BMX stunt shows from Solution Action Sports, and live music from local radio station WLBC and local musician Heaven Cansler.
Meridian will hold a "Duck Pluck" where ducks purchased will be picked out of a large pool. Anyone may purchase individual, small ducks for the "Duck Pluck" and earn the chance to win more than 3,000 raffle prizes including a Bahamas cruise, gift cards and more.
Proceeds from the Duck Pluck and Ducky Derby will benefit Meridian's Child Advocacy Center and the Suzanne Gresham Center, a division of Meridian that helps improve the lives of children and families through "whole-person health" including counseling, family assistance, medical care and child abuse recovery.
Join Meridian 10 a.m.-1 p.m. Saturday, Aug. 25, at the Suzanne Gresham Center. The Ducky Derby race begins at 10 a.m. To purchase ducks or to donate, visit www.MeridianHS.org/Events/FamFest.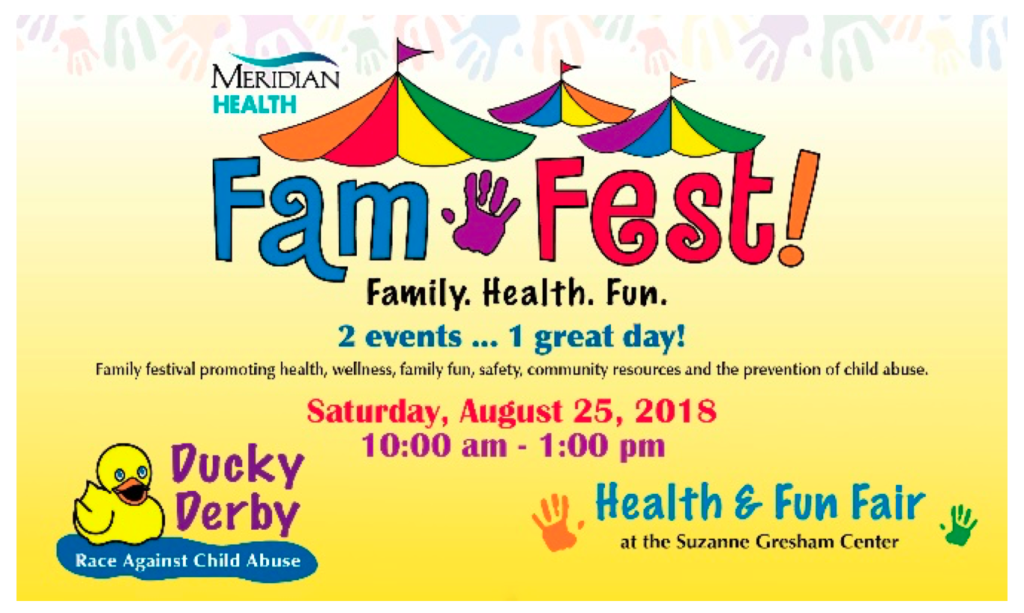 About Meridian Health Services
Meridian Health Services is a regional, progressive healthcare organization specializing in "whole-person" health, integrating physical, mental and social well-being to help people achieve their optimum health.  Meridian serves more than 40,000 patients in 46 Indiana counties offering a wide spectrum of healthcare specialties including: primary medical care, pediatrics, inpatient/outpatient psychiatry, obstetrics/gynecology, addictions and recovery, children and family programming, behavioral health and human services.