By: Mike Rhodes—
Muncie, IN – The Muncie Rotary Club, Muncie Sunrise Rotary Club and United Way of Delaware County recognized 8 individuals at the 26th annual VIVA Awards luncheon, held on April 17th at the Horizon Convention Center.
The VIVA Awards recognize individuals who have demonstrated the highest level of volunteer activity to serve the civic and social needs of our community.  The event rewards, reinforces and inspires local volunteers to aspire to the Rotary ideal of "Service Above Self." Individuals who live or work in Delaware County were eligible.  Their service has impacted numerous local organizations, and has resulted in hundreds of volunteer hours benefitting our community.
This year's honorees included:
Dale Basham—Edmund F. Ball Lifetime Achievement Award
Dale Basham's volunteer involvement in the community is wide and varied. Some examples include: Hillcroft Services, board of directors, Capital Campaign Committee; Muncie Action Plan, board of directors; Muncie-Delaware County Chamber of Commerce, Business-Education Partnership; chairman, Muncie Downtown Development Partnership, treasurer, board of directors; Muncie Human Rights Commission, commissioner; Fire Merit Commission, board of directors; Ball State University Friends of Bracken Library, board of directors; Muncie on the Move, master of ceremonies; United Way of Muncie-Delaware County, volunteer and master of ceremonies for campaign kick-off; WIPB Annual Telesale, volunteer; and many others.
Dale is also Rotary International District 6560 district governor. Dale is truly invested in all the organizations he serves.
VIVA Award Winners
Oran Birt received a VIVA award for his volunteer service to the Minnetrista Cultural Center and other organizations in Delaware County. To date, Oran "Bud" Birt has contributed 5,767 hours to Minnetrista. He began volunteering at Minnetrista in 1988 as a docent. Bud also volunteers his time at IU Health Ball Memorial Hospital and has contributed 1,990 hours of service to the hospital. Bud also assists with maintenance at St. Paul's United Methodist Church.
Bob and Karen Good received a VIVA award for their work at the Delaware County Historical Society. Bob and Karen have a passion for local history. Karen is involved with Ancestor Hunters—a local genealogy interest group and also writes the Delaware County Historical Society's bimonthly newsletter. Karen also assists researchers who visit the DCHS Resource Center.
Bob has also been involved with the Pioneer Cemetery Preservation group, working to preserve headstones and information about Delaware County residents who have passed on. Bob and Karen have both played a major role in the resurgence of the Delaware County Historical Society.
Alberta Green received a VIVA award for her nearly 30 years of volunteer work for IU Health Ball Memorial Hospital's Library of Life, Love and Laughter. For 20 years, Alberta has volunteered once-a-week at St. Vincent DePaul Society, located in the old St. Lawrence School on East Charles Street. Alberta, who turns 90 in August is an inspiration to her family and friends. She gives her time and talents freely.
Marchal Hudson received a VIVA award for her volunteer efforts with a variety of non-profits in Delaware County. She is chair, board of directors for United Way of Delaware County and has been instrumental in helping the organization with its various committees. She is also board chair for  Motivate Our Minds. Marchal provides passion, enthusiasm and leadership in insuring Motivate Our Minds is a sound organization and one that is evolving for the future. Marchal is also a mentor to many of the Motivate Our Minds staff.
Steven Knipp received a VIVA award for his volunteer efforts at the Soup Kitchen of Muncie, where he volunteers to help prepare and serve food. In addition, he volunteers some of his time at Barrier Free Theater. Barrier Free allows individuals with special needs to participate in the theater experience. In February, Steven volunteered to cut hair at the Ball State Dance Marathon which raised over $650,000 for Riley kids. Steven also volunteers for the Muncie Burris High School drama department and is currently helping students with their theater production Zombie Prom.
Paula Mangus received a VIVA award for her work partnering Glad Tidings Church and Sutton Elementary school. Paula recruited church members to serve as mentors for the "Kids Hope" program and arranged volunteers for all of the school's events. Paula led the first Muncie Community Schools summer lunch program at Sutton Elementary that led to the expansion of the program at other MCS schools.  Paula has also volunteered to help at Northside with registration volunteers, donating school supplies and helped provide funding for a "reward school trip" for students.
Congratulations to all the VIVA award winners and thank you for your service to the community.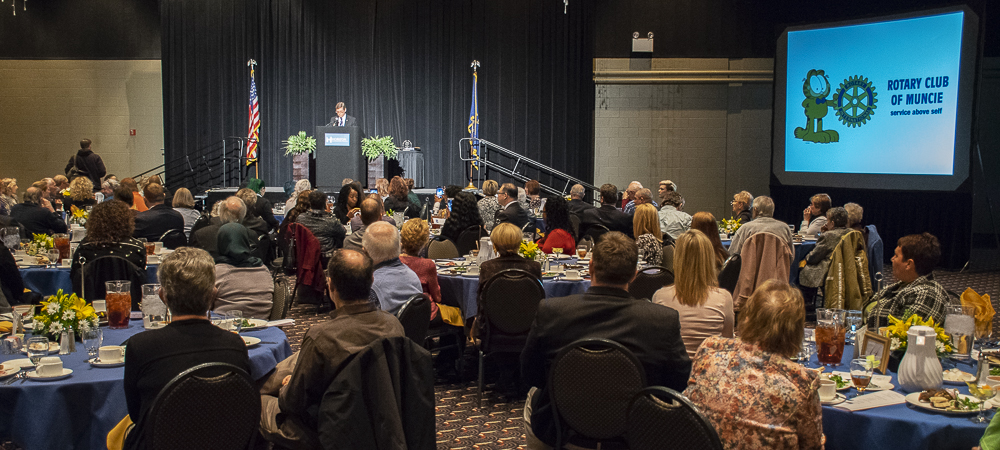 You may listen to the entire VIVA awards presentation as recorded by WLBC by clicking the play button below. 


CleanCut Lawn and Landscape is this month's sponsor of non-profit stories found on MuncieJournal.com  Locally owned for over 33 years, CleanCut is your dependable, knowledgeable landscape company. CleanCut Lawn & Landscape. A better lawn. A better life!