By: Mike Rhodes—
Family pets are a very important part of the family home.
For nearly 25 years, research has shown that living with pets provides health benefits to pet owners. Simply petting an animal can reduce stress, lower blood pressure and decrease depression in pet owners among other health benefits.
In fact, a growing number of studies have suggested that children growing up in a home with "furred animals" —whether it's a pet cat or dog, or on a farm and exposed to large animals — will have less risk of allergies and asthma.
So, if our pets and animals help keep us healthy, isn't it important to keep your pet healthy, too? Of course it is.
One of the most important ways to keep your pet healthy is through regular dental cleaning. Just like with humans, poor dental health in a pet can result in poor health down the road. Poor dental health in a pet can result in heart disease, stroke etc., as unhealthy bacteria grow and multiply in the pet's bloodstream.
Dr. Michael Brown of Care Animal Hospital recommends dogs and cats get an exam every 6 months. "Most pets do not get routine dental care at home," he said. "Only 3% of pet owners brush their pet's teeth. We watch for periodontal disease with pets as early as 1 year old. Dogs and cats do not get cavities, but they DO get periodontal disease. The pet can start to lose teeth and get bacteria in their mouth. The bacteria can begin to affect the pet's heart, liver and kidneys.
"We go in and clean the tarter off the teeth, take X-rays, and evaluate each tooth. If a tooth needs to be extracted, we will do that, too."
Dr. Brown says typically, depending upon the dog, pet owners should have a full regular exam every 6 months, to determine if the  pet's teeth need attention. "It just depends on the dog," said Dr. Brown. "Some dogs can get checked and will only need teeth cleaning every year and other dogs may go four or five years before they need cleaning. It just depends upon the genetics of the dog. Smaller dogs seem to need cleaning more often than larger breeds."
Pet owners should look for tartar build-up on the upper molars throughout the year. Bad breath can be one good indicator your dog's teeth may need cleaned.
Push or tap the play button below to listen to our radio commercial about teeth cleaning. 
Care Animal Hospital Offers a Wide Variety of Services
Care Animal Hospital offers a variety of services to care for your pet. Care Animal Hospital strives to get to know your pet as an individual and works with you to develop and build a partnership that includes preventative care and treatment plans specifically tailored for your pet. Care Animal Hospital offers the following benefits to you and your pet: In-house lab; surgical services; wellness care; puppy and kitten care; senior pet care; weight management; online pharmacy and therapy laser treatment.
In addition, Care Animal Hospital offers Wellness Plans for your pet's routine health needs. Wellness Plans are an easy way to budget for your pet's health needs, and allows you to select a plan for low monthly payments.
Care Animal Hospital also offers boarding services for when you leave town. Care Animal Hospital employs Jamie Gossett as a groomer. Jamie has over 25 years of experience and grooms all breeds of dogs and cats.
Comments from pet owners:
"I have nothing but good things to say about Care, the staff is knowledgeable, kind and patient, they are extremely thorough and I feel like Lila is secure and safe in there hands. My dog Lila is my fur baby so it's so important to me to trust the ones taking care of her health. I have been bringing her here since she was born almost 5 years ago and my family brings their pets here as well. They always schedule appointments quickly and when I walk in I rarely have to wait and when I do it's less than 15 minutes. I love it here! Thank you Care for all you do to take care of our pets!"—Audra

"I absolutely love taking my fur baby here for all of his medical issues……They always call me to check on him (my Buddy). which has been quite often lately. I really appreciate the fact that I can call anytime and they are always very concerned. A big Thank You to everyone at Care Animal Hospital!! You guys are the best!"—Joyce

"Absolutely love this place. I have been to alot of vets and by far this beats all of them. They are very good and gentle with all my rescue babies (especially my Pitbull Terriers, which a lot of vets are scared of them). Couldn't ask for any better!"—Brittany
Care Animal Hospital Veterinarian's
Dr. Michael W. Brown
Dr. Matt Hobson
Dr. Margaret Thornburg
Dr. Desiree Avila
Accreditation from the American Animal Hospital Association. (AAHA)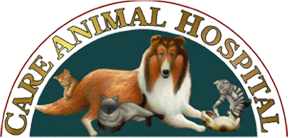 "We're your best friend's best friend."
3601 North Nebo Road
Muncie, IN 47304
Phone: 765-284-3000
Hours of Operation:
Mon-Fri, 7am to 7pm
Saturday, 8am to 2pm
Sunday, 10am to 4pm
Website: www.care-animal.com