By: Jud Fisher—
Muncie, IN—With the start of the new year, Ball Brothers Foundation is looking back to 2017 highlights. During the 2017 year, BBF made a record $7.3 million in grants to non-profit organizations in Muncie, Delaware County, East Central Indiana, and Indiana.
Early Childhood Providers Convening
In early 2017, BBF convened a group of nearly 20 early childhood providers to gain first-hand perspectives on their needs. Early Childhood Education has been a funding interest of BBF for nearly a decade, and this convening offered us the opportunity to hear how BBF has made a difference and how BBF can continue to support early childhood education through grantmaking and lending our voice.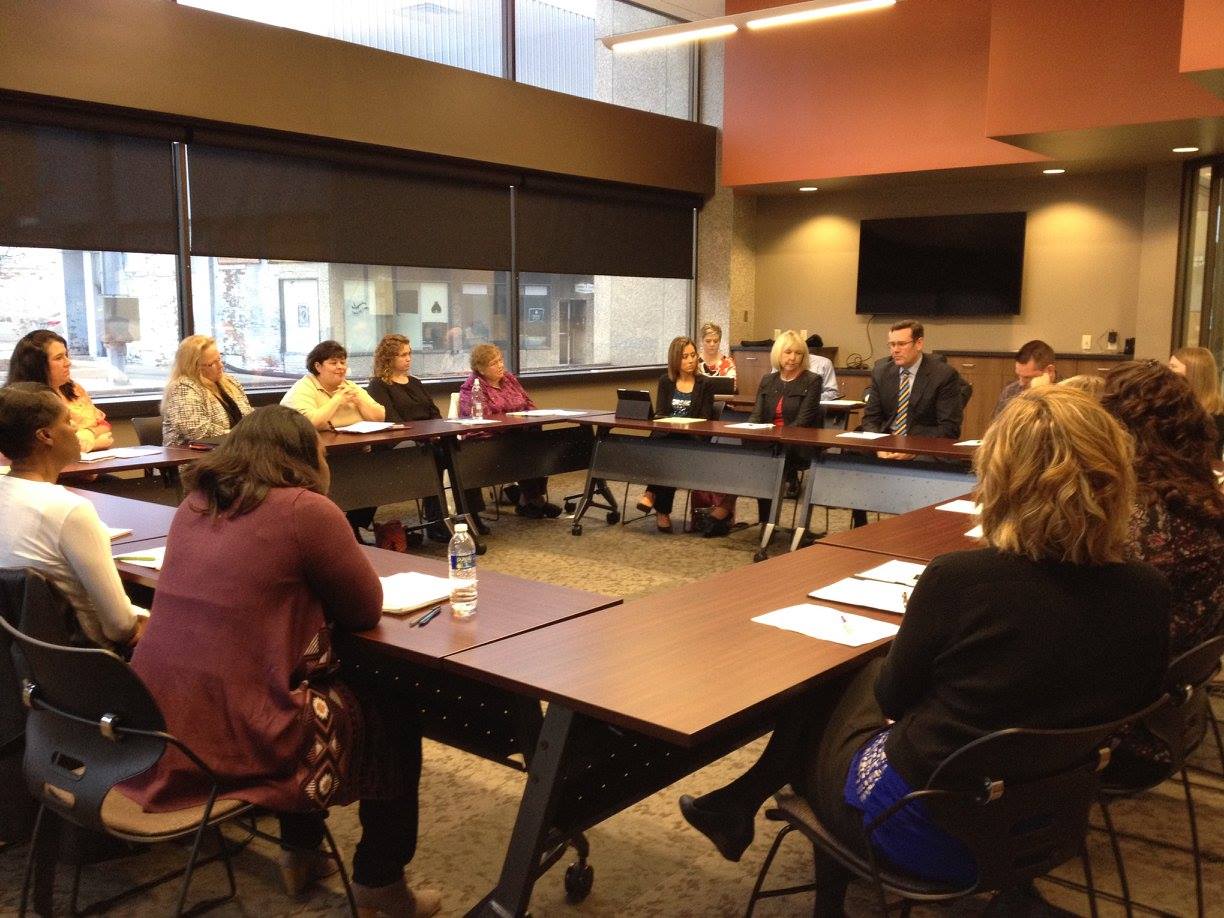 BBF Fellows & Staff
Mindy Kenworthy, President/CEO of East Central Indiana Regional Partnership, Inc. and Heather Williams, Building Better Neighborhoods Program Manager were the 25th and 26th participants in the BBF Fellows Program. Retired BBF Program Officer Neil Schmottlach returned to the Foundation to lead the Fellows Program which gives Fellows an inside perspective on how foundations operate as well as additional professional development opportunities. The program begins each year in the spring and monthly meetings continue throughout the summer and fall.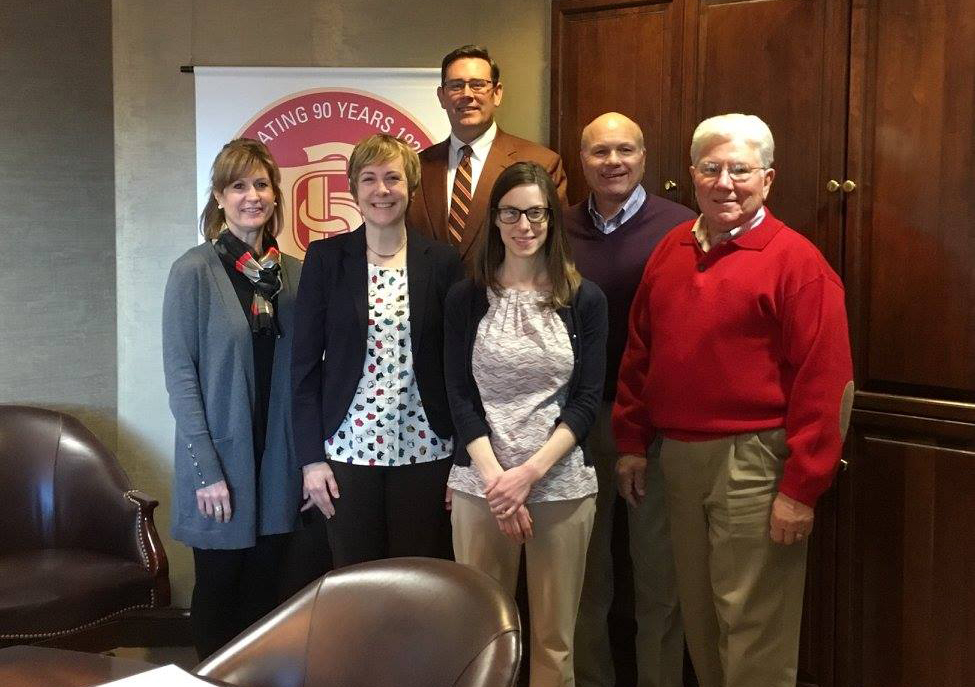 Optimus Primary Grants Among May 2017 Awards
In May 2017, BBF's board approved 29 grants totaling over $3 million. Highlights included a cluster of grants to strengthen medical education in Muncie. The grants are part of a joint effort called "Optimus Primary" and were awarded to IU School of Medicine-Muncie, IU Health Ball Memorial Hospital Foundation, Ball State University, and Meridian Health Services. These grants are providing improved housing options for medical students, piloting new teambuilding courses, integrating lifestyle medicine and mental health services into the primary care setting, and more.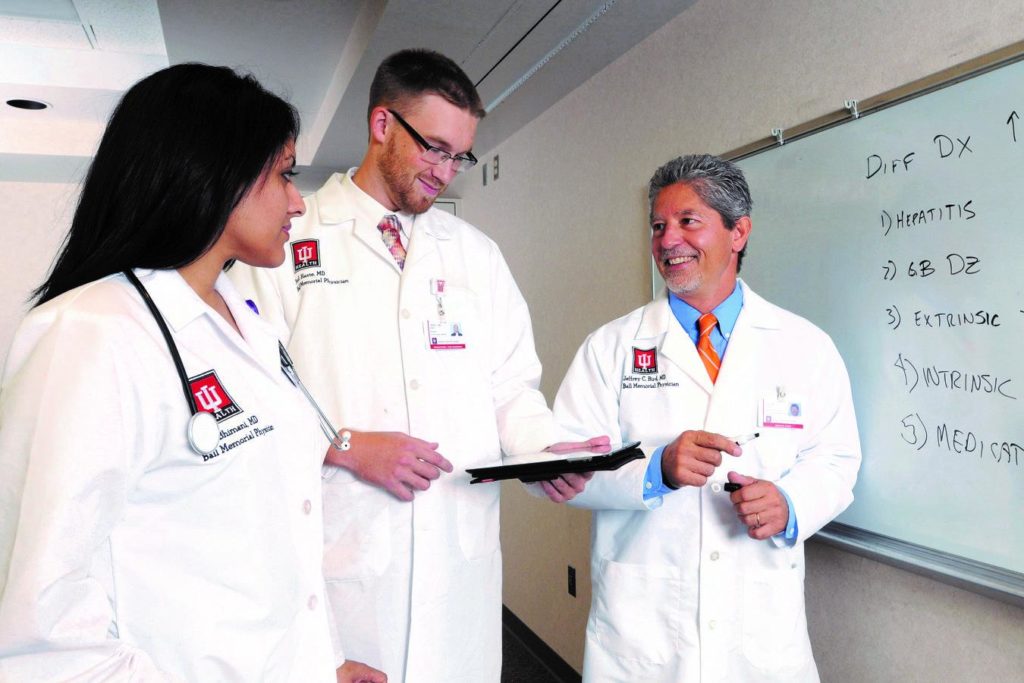 Bus Tour with BBF Board, ADs, & Staff
Following the May board meeting, BBF Board, Associate Directors, and staff were joined by BSU's new President Geoff Mearns and his wife, Jennifer, for a bus tour highlighting BBF-funded projects and areas of interest across Muncie. The 2 hour tour highlighted legacy grantees including Minnetrista and IU Health Ball Memorial Hospital as well as up-and-coming projects including Ross Community Center's new baseball fields and major enhancements at Prairie Creek Reservoir.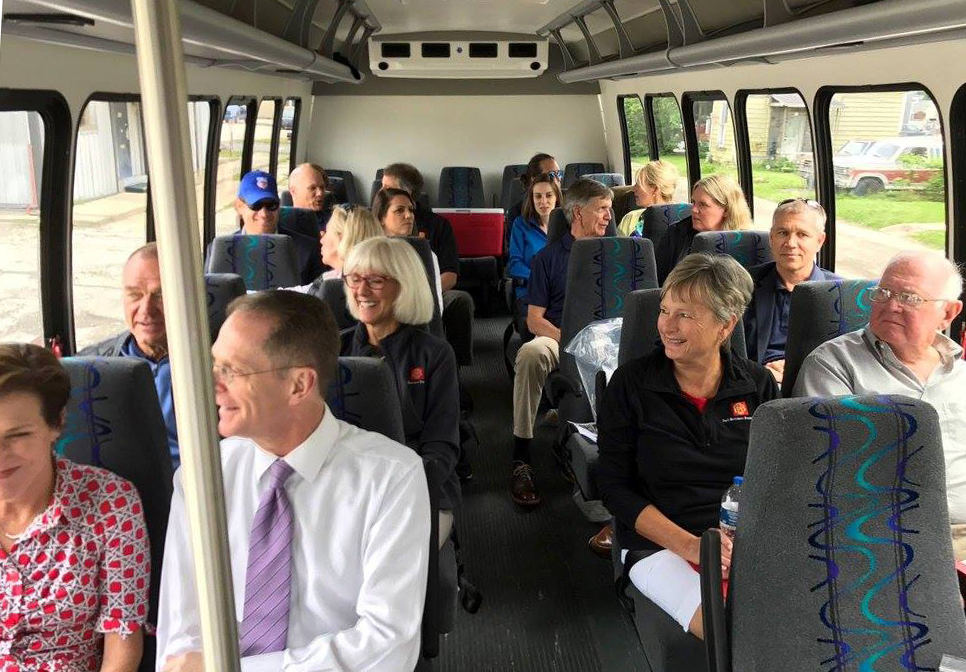 BBF Excellence in Teaching Award Finalists
BBF's 2017 Excellence in Teaching Award went to Chris Holdren, a 5th grade teacher at Selma Elementary. Finalists for the award were Martha Murphy, a K-12 instructor of orchestra at Burris Laboratory School and Drew Shermeta, a Social Studies Teacher at Muncie Central High School. The finalists were recognized at BBF's Annual Reception which was held at Minnetrista in late May. Nominations for the 2018 award are due February 1.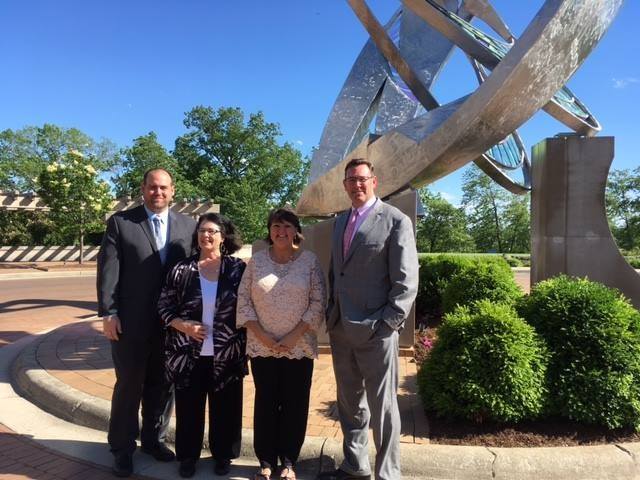 BBF Associate Directors & Staff Members
Next generation Ball family members continued their participation in the second year of the Associate Directors program. Six fourth-generation Ball family members are participating in the program which engages them in board meeting activities, site visits, and learning sessions. BBF is one of the oldest family foundations still led by members of its founding family. In this photo, ADs delve into data about the Muncie community presented by Phil Tevis and Colby Gray from FlatLand Resources.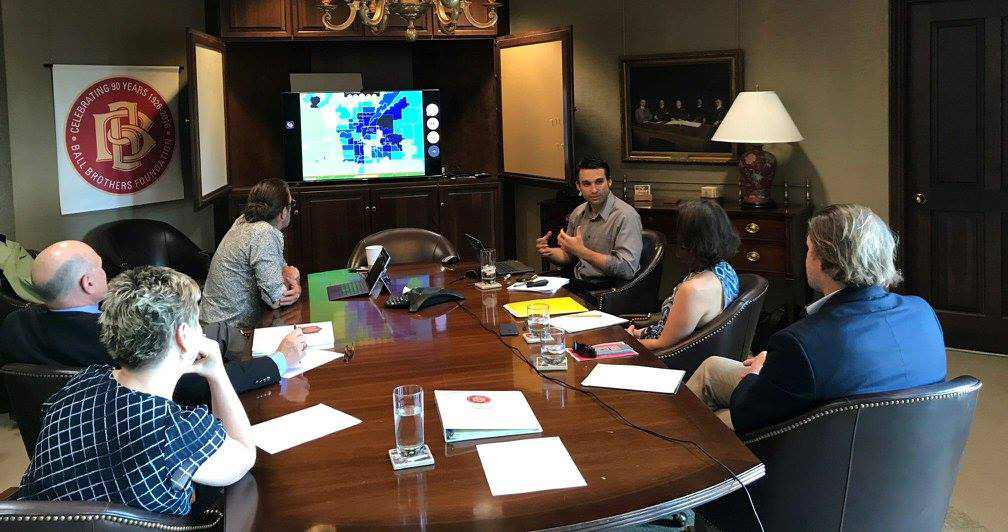 Maplewood Guest House
The historic BBF-owned "Maplewood Guesthouse," was leased to Ball State University in the summer of 2017. Now named the "Maplewood Mansion Learning Laboratory," the house provides BSU students with hands-on learning opportunities in hospitality and property management. Through a special partnership, medical students from the IU School of Medicine-Muncie and IU Health Ball Memorial Hospital live in the home while training in the Muncie community.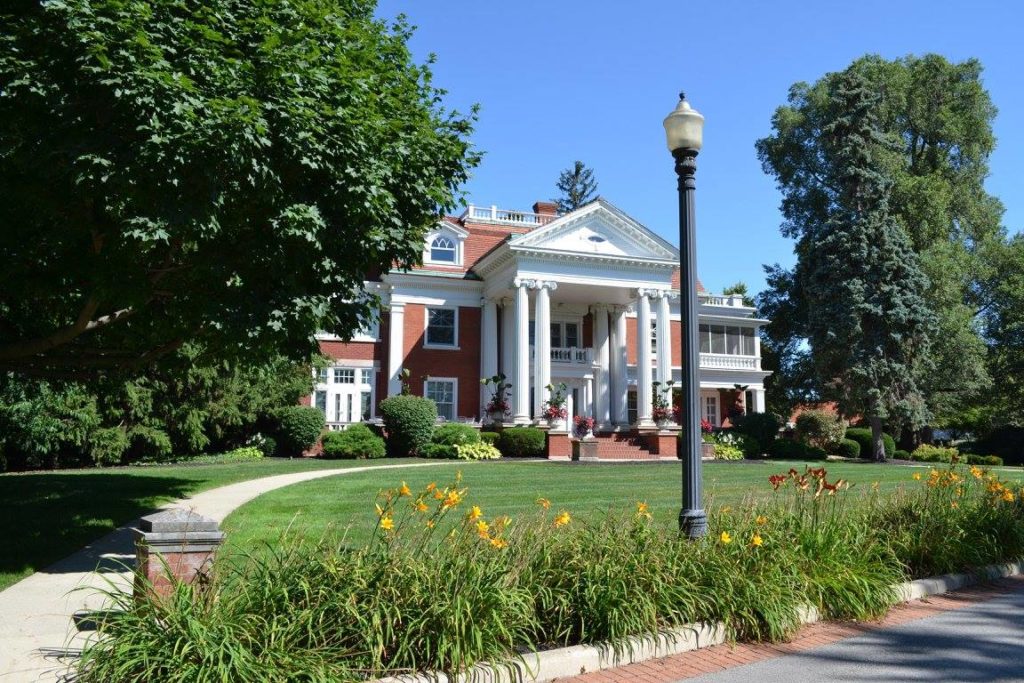 BBF's Jud Fisher speaking at BSU on September 8
Ball State University officially welcomed its 17th President, Geoffrey Mearns at the start of the new school year. BBF's Jud Fisher was honored to speak during the installation ceremony. Jud shared a brief history of the family's commitment to the university—likely the longest continuous relationship between a public university and its original benefactors in the country—as well as appreciation for Mearns' commitment to enhancing the university's connections with the Muncie community.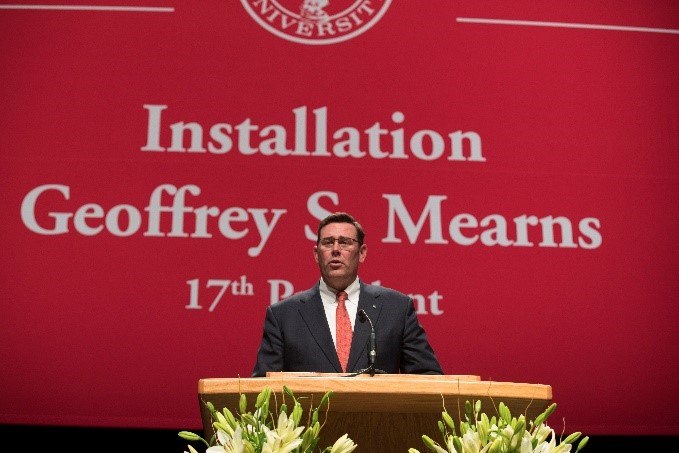 BBF convenes group to meet with Governor Eric Holcomb
In late September, BBF played roles in convening several important meetings in the community. Among these meetings was one that BBF arranged between Indiana Governor, Eric Holcomb and major healthcare providers and healthcare education organizations. The group discussed Muncie's "healthcare niche," challenges faced in our community, and information about the Optimus Primary effort to enhance physician training programs and improve population health in Muncie and beyond.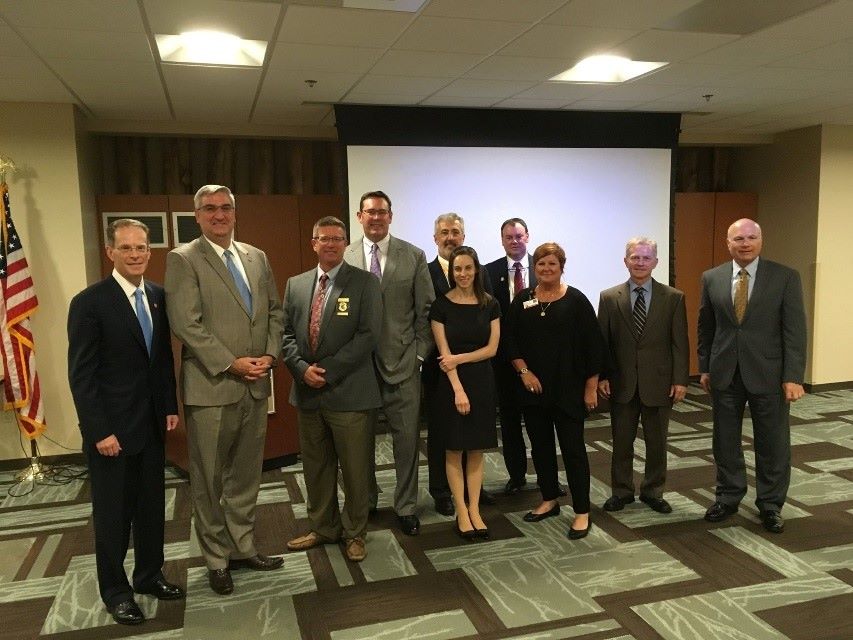 Central City Visioning Summit
A "Central City Visioning Summit" held in late September featured Vandewalle & Associates, a firm based in Wisconsin which is creating a master vision for downtown Muncie as well as Dave Rodger, a retired John Deere Executive who worked closely with Vandewalle on a decades-long revitalization project in Waterloo, Iowa. The Summit emphasized the importance of public-private-philanthropic partnerships and other best practices in redevelopment. BBF worked with the city of Muncie and the Muncie-Delaware County Economic Development Alliance to host the summit.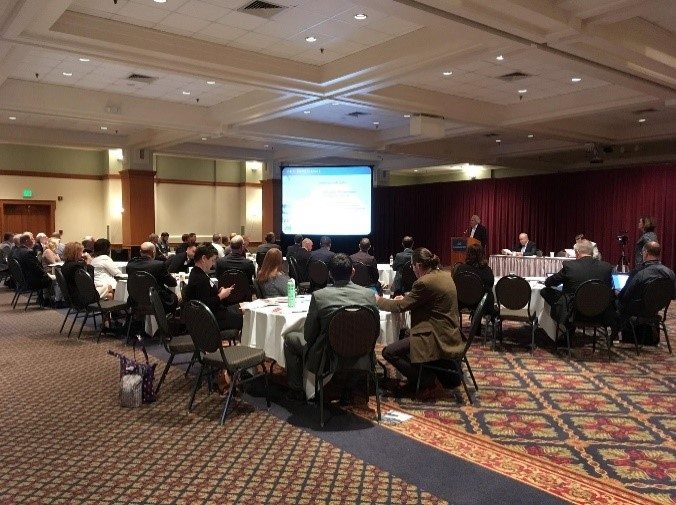 Meeting with Secretary Blair Milo
BBF helped make arrangements with the Muncie-Delaware County Economic Development Alliance to host Secretary Blair Milo of the Indiana Office of Career Connections and Talent. Secretary Milo had the opportunity to hear first-hand from local employers, K-12 and university leaders, and workforce development-focused non-profits about local needs.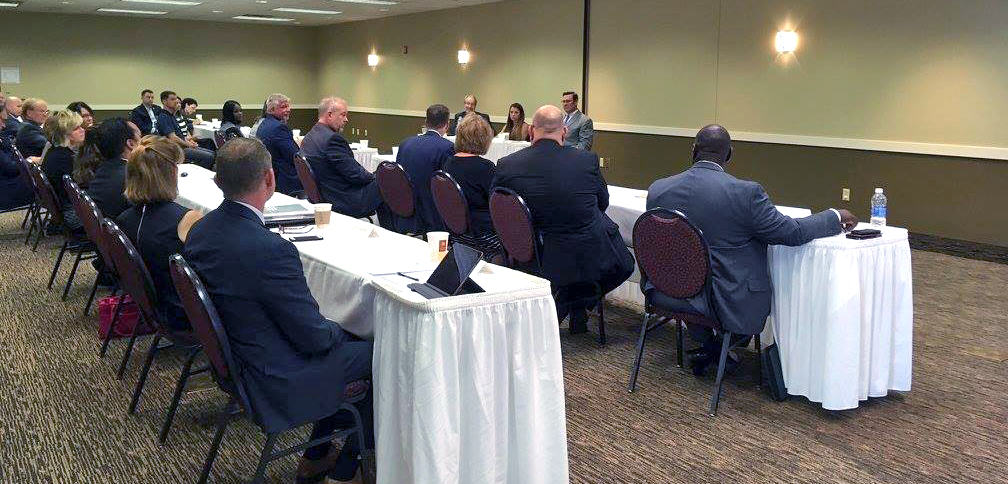 Fisher Governance Award
In October, John Craddock was presented with the John & Janice Fisher Governance Award. The award recognizes an outstanding board member of a non-profit organization in Delaware County. John was recognized for his leadership as a longtime board member as well as board president of Community Enhancement Projects. Nominations for the 2018 award are due August 15.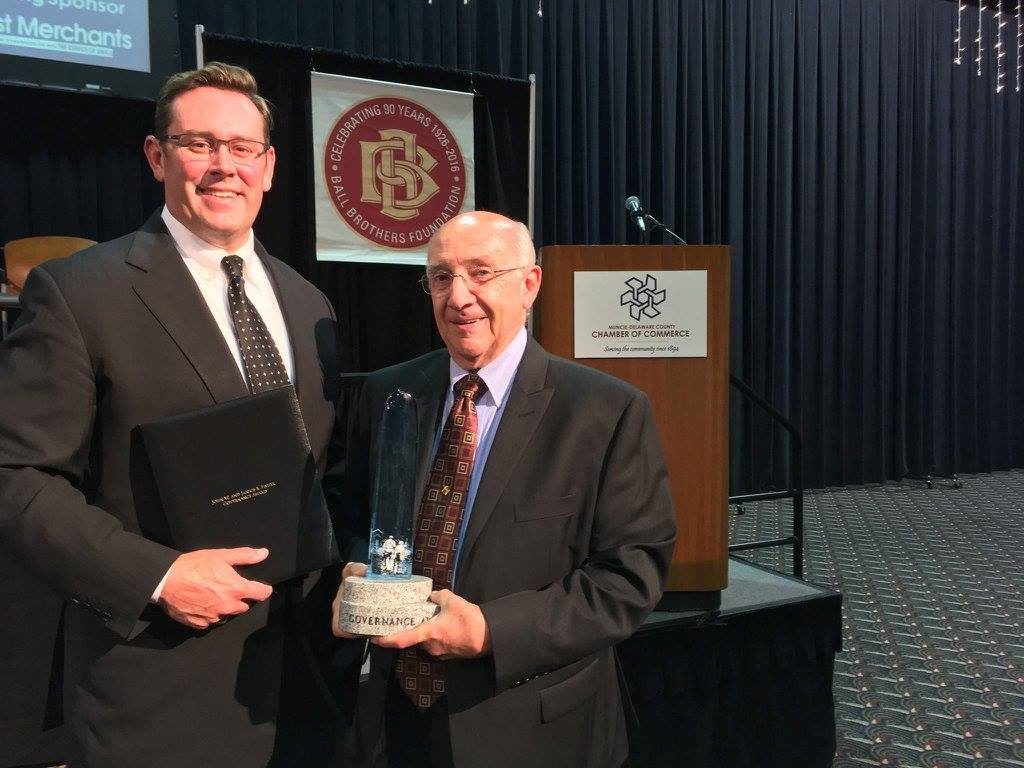 BSU Homecoming 2017 Award Recognition
The Ball State University Foundation recognized Ball Brothers Foundation as its 2017 Foundation Partner of the Year during Homecoming 2017. The award recognized BBF for its financial commitments to many BSU projects, including renovations to Emens Auditorium.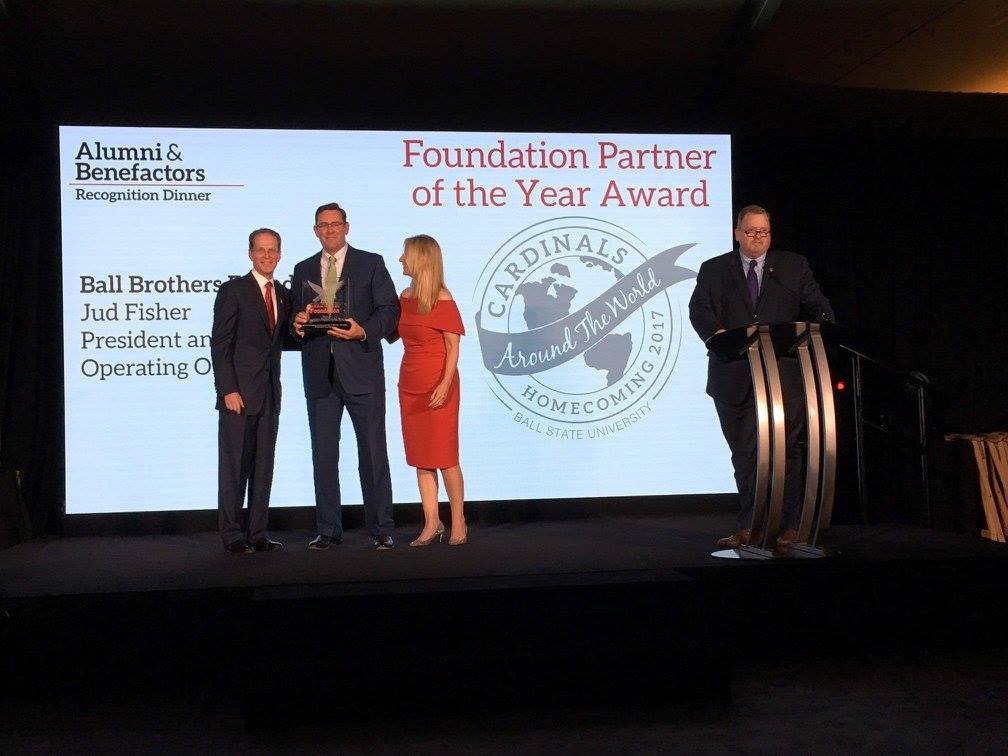 October 2017 Board Meeting
At the October meeting of BBF's Board of Directors, the board approved a new 5-year strategic plan for the foundation which was the result of a year's worth of external stakeholder surveys and interviews, internal research by BBF staff, and benchmarking. The board also approved over $3.6 million in new grants with highlights including funding for Purdue Polytechnic to begin new training programs in Muncie, new theater seating for Muncie Civic Theatre, and a new playground at Burris Laboratory School.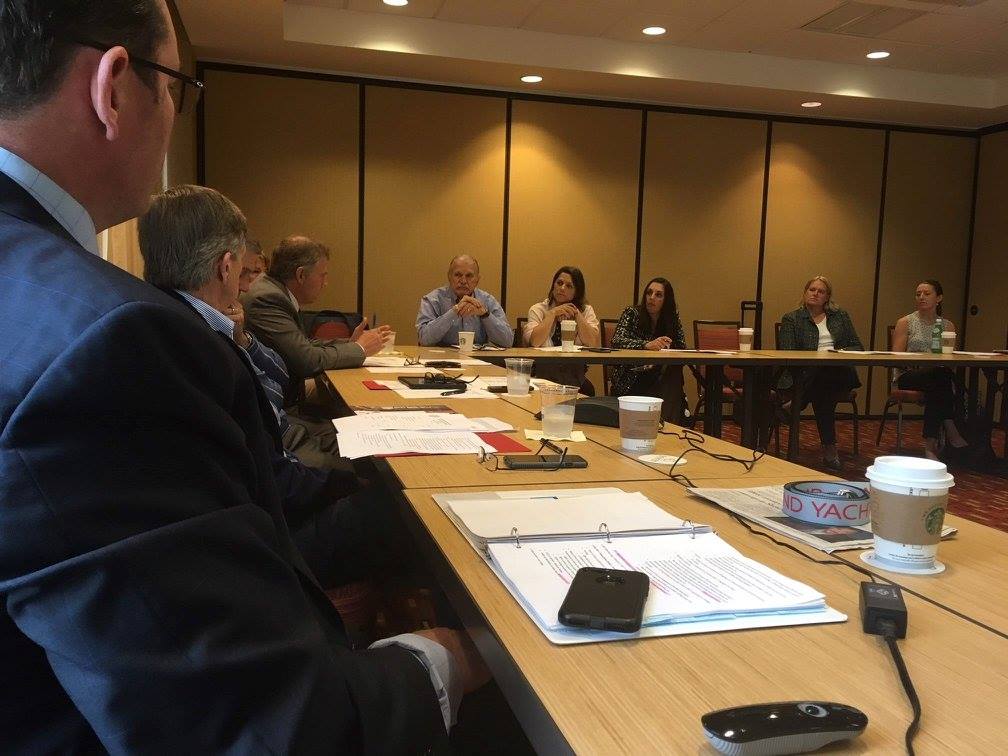 Emens Auditorium Tour
BBF's Board of Directors and Associate Directors toured the newly-renovated Emens Auditorium and enjoyed lunch in the Auditorium's new Ball Brothers Foundation Hospitality Suite in late October. BBF grants for the Emens renovations totaled $525,000. VP of Business Affairs, Bernie Hannon, gave a presentation on the impact of BBF grants to BSU and provided an overview of BSU's Master Plan.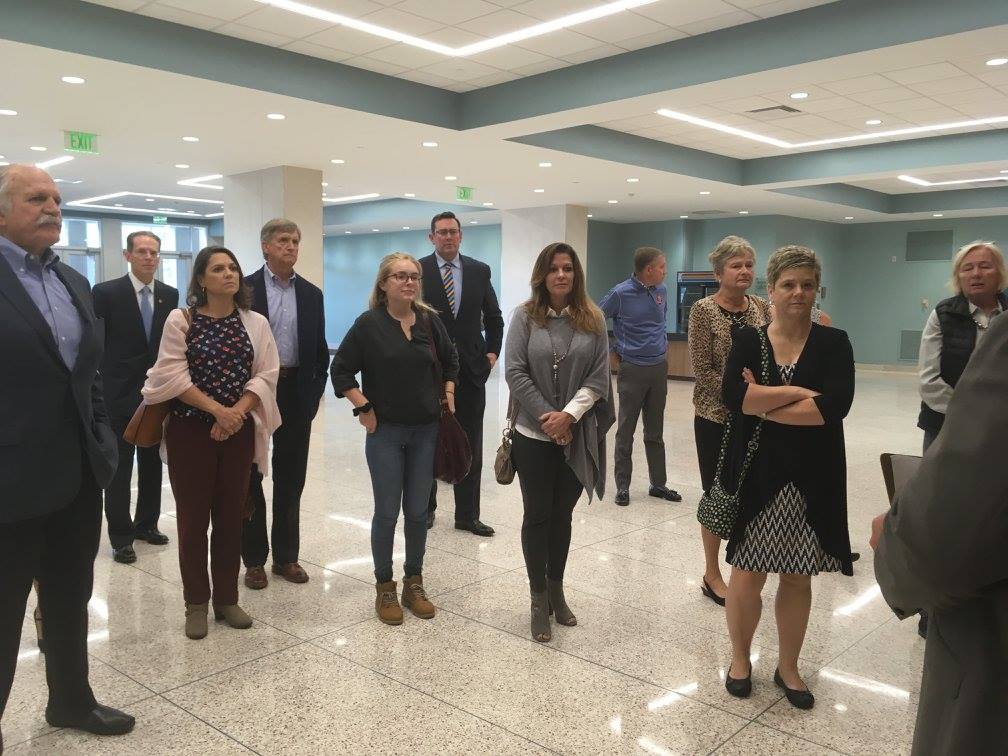 Optimus Primary Convening
As the year drew to a close, BBF convened grantees that are working to enhance physician training programs and improve population health in Muncie. Grantees shared updates on their work and opportunities for future expansion. Also invited to the meeting were additional providers of healthcare training and services.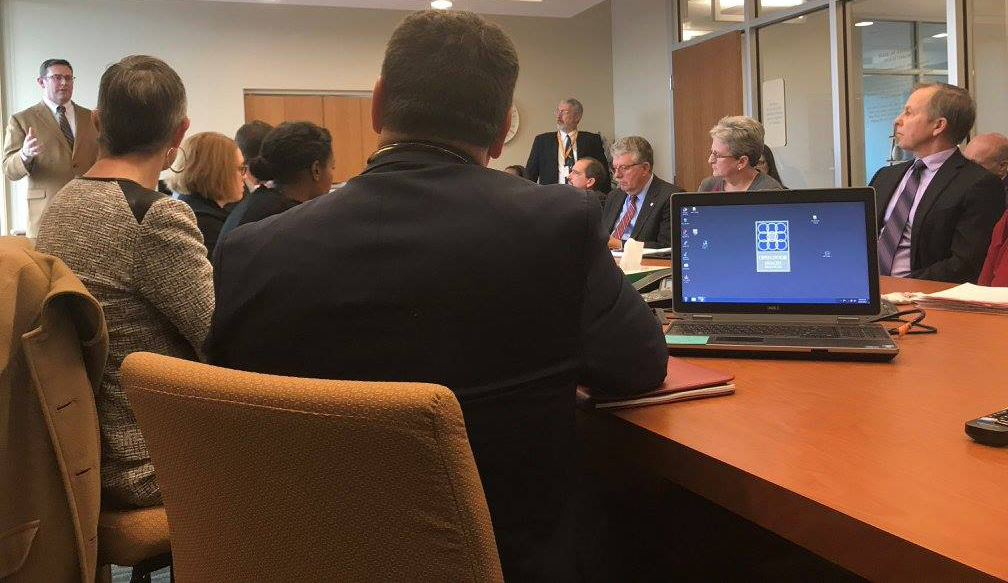 About Ball Brothers Foundation
Ball Brothers Foundation is one of the state's oldest and largest family foundations. Last year, Ball Brothers Foundation celebrated its 90th anniversary, awarding $7.25 million in grants supporting arts and culture, education, the environment, health, human services and public affairs. The Muncie-based private foundation gives priority to projects and programs that improve the quality of life in BBF's home city, county and state.