By: Muncie Downtown Development Partnership—
Muncie, IN—Muncie Downtown Development Partnership (MDDP), in partnership with Muncie Arts and Culture Council and Ball State University's School of Fine Art and School of Music, present ArtsWalk 2017. ArtsWalk will be held in the streets of DWNTWN Muncie on Oct. 5 from 5 – 9 p.m. Please join us for an exceptional evening of art, food and performances.
In addition to the well-established DWNTWN "First Thursday" art gallery openings, Ball State students and faculty will share a wealth of musical talent and visual artistry, including a pottery throwing demonstration and an artwork sale from the Student Fine Arts League. Music will be presented by a variety of Ball State ensemble groups.
PrimeTrust will host a "Soup Crawl" benefiting Second Harvest Food Bank at a variety of DWNTWN and other locally owned restaurants. Tickets are available in advance for $20 at all Prime Trust branches and Second Harvest Food Bank.
Muncie's YART 2017 will be held in conjunction with ArtsWalk. This guerrilla art sale, with a goal of making art affordable and accessible to the community, brings together artists and art patrons in a casual and unique setting.
All ArtsWalk events are free and open to the public.
---
CANAN COMMONS
YART: "Yart Sale: A Yard Sale for Art"
YART is Coming! YART began in Muncie, Indiana with students of Ball State University and continues here and in several U.S. cities – a Muncie original! This community art sale, with a goal of making art affordable and accessible to everyone, brings together artists and art patrons in a casual and unique setting. All YART art will be priced below $40! YART works to enable local creative entrepreneurs and to improve the Muncie economy. Each YART to meet the public, discuss their art, handle sales personally, and some artists will be making art LIVE at YART! Shop local, support independents, and enjoy your town!
CHARLES ST.
Forever Young Children's Boutique: "Hot Cider and Sidewalk Sale; Extended Hours"
Forever Young Children's Boutique will hold a Hot Cider and Sidewalk Sale with special extended hours from 5 – 8 p.m.
IDIA Lab: "Virtual Reality Projects"
Ball State University's IDIA Lab will showcase recent virtual reality projects at 223 S. Walnut Street (the former Silo) during Muncie's First Thursday. Stop by to explore selections from our immersive multiuser environments that use the HTC Vive VR headsets, including a simulation of the 1915 World's Fair in San Francisco; a monumental, never-built design of a tomb for Sir Isaac Newton; and explore several Human Computer Interaction projects. IDIA Lab staff and faculty will be on-hand for questions about how these emerging technologies are being used in the arts, sciences, and humanities. IDIA Lab is an interdisciplinary virtual reality and simulation lab at Ball State University's College of Architecture and Planning.
Twin Archer Brewpub (all ages): "Inkspiration, First Thursday Boutique Opening, Muncie Maps, and Soup Crawl"
Twin Archer will have four different events at their all-ages restaurant for October ArtsWalk. In the gallery space will be "Inkspiration" an exhibition of dynamic self-portraits created in pen, brush, and ink by School of Art students in Barbara Giorgio's Intermediate Figure Drawing class.  Come see the variety of textures and patterns created using white and blank ink on grey illustration board. Have your portrait drawn by one of these talented students! Also in the exhibition space will be the opening of the First Thursday Online Boutique. Check out boutique at www.redbubble.com/people/FirstThursday to see various merchandise options available and view the First Thursday "Introducing…Muncie!" photographic series on display. In the main dining room will be work from Muncie Maps, as well as a sampling of Twin Archer soup for the Soup Crawl. Twin Archer Brewpub is a restaurant and bar that serves craft beer and great food that are made with responsibly sourced ingredients.
N. ELM. ST.
Elm Street Brewery (21+): "Elm Street Brewing presents a collaboration with Black Sword Alliance!"
Through the decades tattoos have garnered a certain misconception for those who display them proudly. "Hooligans…rebels…uneducated…I'd never hire them!" people have said has they're quick to judge a book by its cover. Thankfully, today, tattoos have become an accepted art form. Still, however, people tend to forget the art that goes into the art form. We've teamed up with Black Sword Alliance to display the art work behind the trade with original pieces from the owners! Black Sword Alliance is an artist owned and operated tattoo and piercing studio located at 604 W. McGalliard Rd. The artwork presented at Elm Street Brewing by the crew, Joshua Chatwin, Samantha Leyes, Aaron Roberts, Craig Mathis, and Jay Williams showcases a variety of styles and mediums influenced by everything from lowbrow DIY, Indian miniature paintings, 70's biker-influenced Americana, painterly realism, mystricism, mythology, cartoons, illustration, parody, and of course, the wide breadth of tattoo culture as a whole. As always, the more you drink, the better the art looks.  In addition to the artwork on display, Elm Street Brewing will be releasing a beer named Black Sword! In keeping with the tradition that you shouldn't judge a book by its cover "Black Sword" is a Blonde Stout with additions of Black Tea, Black Cherry, cinnamon, and vanilla bean. We invite you to our space for an evening of art, beer, and music!
N. HIGH ST.
Savage's Ale House (21+): "Indianama – A Million Tongues, by Shantanu Suman"
"A Million Tongues" is a visual representation of the eclectic languages that India holds within itself. We took inspiration from the Indian matchbox art – an art form that offers insight into the diverse culture, commerce, art, politics, and lifestyle of Indians. If you dig deeper you'll notice that every box, similar to every state in India, has a different story. First, the show wants to bring attention to the diversity in the multitude of languages. Secondly, it acknowledges how each of the Indian states are different in their own ways, yet the distinctive style of the matchbox art brings them together. While these numerous languages play an influential role in defining India, the also pave the way for a million possibilities. The designer, Shantanu Suman, will be on location from 9 p.m. onward to answer questions and discuss his work.
Studio Exhale:"Found by Denise King"
Denise King's photos are of unexpected moments, discarded and forgotten things, surprise jolts of color and texture. King is a Muncie artist who paints trompe l'oeil murals. She also photographs the textures and hues of the world around her including her garden, lost and forgotten objects, people-in-the-moment, and the architecture and character of historic structures. Last summer, she was chosen to paint the Delaware County bison for the Indiana Bicentennial Celebration. Over 100 fiberglass bison were uniquely painted all across Indiana to reflect the rich history of our state. The Delaware County bison is now permanently installed in Tuhey Park.
S. HIGH ST.
Muncie Public Library: "Mary Shelley Salon & Tea"
Two Muncie Public Library employees dressed in proper Victorian garb will stroll the streets of downtown Muncie to invite the public to attend a free Mary Shelley Salon & Tea taking place the next evening on Friday, October 6 at 5:30 p.m. at the historical Carnegie Library. The Friday event will feature a discussion of Shelley's "Frankenstein" plus Victorian crafts, teas, sweets, and a silent auction.
E. JACKSON ST.
Madjax: "GindhART @Madjax ArtsWalk 2017"
Please join local artist Debra Gindhart Dragoo for ArtsWalk 2017 in her contemporary studio at Madjax Muncie. Debra has added new text to redirected paintings, prints, and mirrors for this month and a new abstract acrylics collection, too. All new Aerosol installation as well. Meet the artist and enjoy light refreshments. October 5th 5 – 9 p.m. GindART in Madjax Muncie, first floor.
"Dame Sissy Britches of Jazzycorn at Madjax"
Dame Sassy Britches at Jazzycorn (aka Denise Broyles) is having an opening reception from 5 – 9 p.m. on the 1st floor of Madjax. Come meet the artist! Broyles makes mixed media, repurposed "Angry Dame Art".
The Guardian Brewing Company
Randy and Theo Salway present: Daily Sketches—A collection of prints and drawings.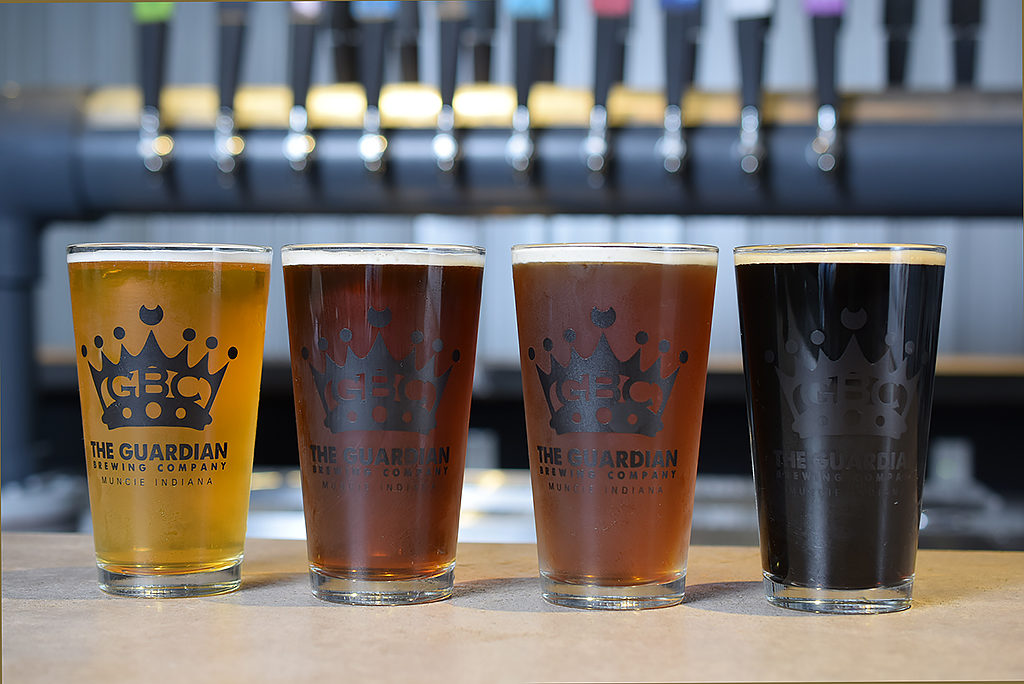 My Photos. Your Words.
Opens First Thursday, October 5th
Ends Thursday, October 19th
2nd Floor of the MadJax above the Co:Lab
Photography exhibit of Matt Howell, local amateur photographer. Matt Howell reached out to social media contacts to crowdsource a show of his photography. Comments, postings, poems, and limericks were collected and a companion book to the gallery was produced and will be available at the gallery show. Prints will be available for purchase and Creative Framing of Muncie will mount and frame any purchased prints.
MAIN ST.
Book Arts Collaborative:"Return to Cuba: Photographs by Ryan Sparrow"
Book Arts Collaborative will have an artist's reception for "Return to Cuba: Photography by Ryan Sparrow" from 5 – 8 p.m. Sparrow has led several photographers on tour of Cuba since its borders to U.S. citizens in 2016. An accomplished photojournalist, Sparrow will show and sell his work on the walls of Book Arts Collaborative in the Madjax building.
Gordy Fine Art and Framing: "Funcie: Signs of Enthusiasm by John Morris"
Muncie artist, John Morris, has revived one of Muncie's unofficial slogans, "Funcie" to communicate a message of what is possible for our community through creativity. Morris is an advocate for affordable and fun art that emphasizes a mindset of cooperation and positive thinking among people to embrace the place we live. His art is specific to Muncie and East Central Indiana and will immediately remind viewers of advertising signs from the mid-20th century. But instead of promoting products, he is promoting a sense of community through affection and good will toward our city. An opening party will be held during Muncie ArtsWalk on Thursday, October 5 from 5  9 p.m. The artist will be on-hand to engage with viewers throughout the evening. Light refreshments will be served, and the public is invited to attend. Family friendly activities will run throughout the evening where visitors can make and take "Funcie" buttons and Spirograph drawings. T-shirts with the "Funcie Indiana" logo will b available for sale.
Muncie Civic Theatre:"Preview Performance of My Fair Lady"
Muncie Civic Theatre will be performing a preview performance of My Fair Lady at 6 p.m. at Canan Commons. Outside the theatre we will be hosting soup from Fuji Japanese Restaurant for the Soup Crawl.
S. MADISON ST.
Cornerstone Park: "Son of Scarevania"
Join Cornerstone Center for the Arts at Cornerstone Park for a special Halloween theme promoting October events at Cornerstone. The spooky characters from Son of Scarevania will "Haunt the Park" to promote the opening of Cornerstone's Haunted Attraction. The Haunting will take place from 5 to 7:30 p.m. at Cornerstone Park on the corner of Madison and Main St. In addition to our special ghoulish guests, there will be themed performances by Cornerstone's Belly Dancers and Halloween crafts for kids. Cornerstone staff will be on hand to answer questions regarding upcoming events, classes, and workshops. Son of Scarevania will open on Friday, October 6. Cornerstone Center for the Arts run Friday snd Saturdays throughout the month of October.
Grace Episcopal Church: "Guitarist and Singer, Ric Dwenger"
Take a quick walk down east Adams Street to find great music, hot tea, and cider at Grace Episcopal Church on the corner of Adams and Madison. Guitarist and singer, Ric Dwenger, a Muncie native and long-time performer, will be playing and all proceeds will go to A Better Way. The concert begins at 7:30 p.m. wit a reception to follow.
S. WALNUT ST.
Intersection: "Michael Jensen Photo Gallery"
Born and raised on the west coast, Mike Jensen has a broad photography portfolio from throughout Colorado, his current home state of Indiana, and all the way to Kenya and Uganda.
Made in Muncie:"Rachel Kline at Made in Muncie Pottery"
A watercolor exhibition by artist Rachel Kline of Made in Muncie Pottery will be on view at Made in Muncie Pottery for October ArtsWalk.
Muncie Makes Lab:"Betwixt&Between"
"Betwitxt&Between", an exhibition of mixed-media work curated by Erin Colleen Williams, is a reference to the somewhere-ness of Muncie and the elsewhere-ness of the participating artists. It is a coming-together of disparate techniques, ideologies, and trajectories. The show features two and three-dimensional work by both emerging and established artists residing in Philadelphia, New York, Chicago, Pittsburgh, and Muncie, Indiana. The group exhibition highlights traditional methods, new media, and alternative presentations. Join us for a First Thursday opening/closing reception from 5:30 – 9 p.m. at the Muncie Makes Lab on October 5.
Valhalla (21+): "Miniature Diorama, Beer, Wine & Whiskey Sampling, and Blues Jam"
Valhalla will have a miniature diorama on display, hand-painted by the owner, Stan Stephens. There will also be a beer and wine sampling for Soup Crawl, and Sean Webster from Monon Beverage will be doing a whiskey sampling. Finally, Valhalla will host their weekly Thursday Blues Jam, an open mic event. Come show us your talent! Sign-up starts at 7 p.m. and music is from 8 – 11 p.m.
300 BLK S. WALNUT ST.
PrimeTrust Soup Crawl Information: Locations are indicated on the map. Participating restaurants include: Casa Del Sol Mexican Grill, Courtyard Marriott, Emily Kimbrough Museum, The Fickle Peach, Harmony Cafe, Horizon Convention Center, Inside Out – Fresh Directions (at Pridemark Construction), Ivy Tech Chesterfield's Cafe, MCL Cafeteria (at AQS Staffing), Minnetrista (at Kirk's Bike Shop), Muncie Civic Theatre, Muncie Massage (at Rose Court) New Corner Brewing Company, Olive Garden (at The Co:Lab), Outback Steakhouse (at Frank Brinkman Law), Soup Kitchen of Muncie (at Ivy Tech Culinary), Texas Roadhouse (at NW corner of Walnut & Charles Streets), The Valhalla Room, Thr3e Wise Men, Tuppee Tong Thai Restaurant, Twin Archer Brewpub, Vera Mae's Bistro, VKA Kitchen & Catering (at David George Insurance), and Welch Winery.
E. WASHINGTON ST.
Delaware County Historical Society: "Artwork by Eugene Mumaw; Art of Needlework; 100th Anniversary of the U.S. Entry into WWI"
The Delaware County Historical Society will be highlighting artwork by Eugene Mumaw, a prolific Civic Theatre poster artist from 1976 to 2004. Also featured will be the art of needlework, with samples of many styles of crochet, quilting and embroidery, as well as a special exhibit of The 100th Anniversary of the United States entry into WWI in 1917.
MUTUAL BANK PARKING LOT (CORNER OF WALNUT AND CHARLES ST.)
Muncie Symphony Orchestra Performance: "Back to School, Indiana Style" – concert at 6 p.m.   Presenting Sponsor is Raymond James, and generous concert support is provided by The Community Foundation of Muncie and Delaware County.
ART AND JOURNALISM BUILDING, 1ST FLOOR, BALL STATE UNIVERSITY
The Atrium Gallery: "Landfall Press: A Selection of Original Fine Art Prints"
The Atrium Gallery at Ball State University will have extended hours for October ArtsWalk from 4 – 8 p.m. The exhibition runs from Wednesday, September 27 at 9 a.m. to Thursday, October 26, 2017 at 6 p.m. Ball State has a storied history with Landfall Press. The pieces purchased by the university in the early years of Landfall were chose by the late Tom Minkier, Professor of Art. Printmaking: Dr. Ned Griner then-department chairperson and the late Bill Story, director for DOMA. Ken Preston worked at Landfall as  four-week student intern in May 1976 four months before beginning his ongoing 40-year teaching tenure at Ball State. Preston stated that the one parallel he sees between work produced at Landfall and his expectation of students is creative conceptual diversity of image-making and technical approaches/expertise within his exhibition of 1003 student prints in the Atrium Gallery in January/February 2017, entitled "Ken Preston 40+ Years of Student Prints."