Community Agencies Unite to Provide Same Day Services to Those in Need—
Muncie, IN—On October 20, 2017, dozens of community-based organizations will provide convenient, on-site, one-stop access to services and resources needed by individuals. Individuals who are homeless, nearly homeless, or who rely on community resources to make ends meet are encouraged to attend this one-stop venue which provides access to resources which might otherwise take months to secure.
"We are looking to support our most-vulnerable citizens with all the services they might possibly need, all under one roof—for convenience and ease of access," said Frank Baldwin Executive Director of Muncie Mission and Chair of the Community Connect of Delaware County committee. "From dental work to haircuts, and you can get energy assistance too."
Baldwin emphasized, "It's one-stop shopping and it's absolutely free—which is important for those who have limited resources like transportation, the ability to keep appointments, or money."
Services include financial assistance and programs, employment and education services, government assistance, veteran's services, health screenings, housing information, parenting resources and haircuts. Held at the Delaware County Fairgrounds, over 50 agencies and departments will be providing services including: Open Door Health Services, Meridian Health Services, Second Harvest Foodbank, Veteran Affairs, Muncie Mission, Center Township Trustees, Muncie Housing Authority, and Road to Redemption Addiction Recovery to name a few.
On October 20, doors open at 9 a.m. and services will run until 2 p.m. at the Delaware County Fairgrounds. In addition to services, guests can partake in lunch and leave with a bag of food. Childcare will be provided. MITS will transport guests to and from the event for free who have a copy of the flyer below. (Click on the flyer image to open a larger image of the flyer. Then print it.)
The event is being brought to Delaware County by Vectren Energy Delivery, who has sponsored successful events like this in Vanderburgh and Vigo Counties. Customer Outreach Representative for Vectren Beth Pace coordinates these events annually.
"We are excited to pilot this event in Delaware County," Pace commented. "The idea is to provide immediacy of services by multiple sectors of the community. We extend a helping hand with a spirit of delivering excellent service in a very hospitable way."
"Forty-seven percent of Delaware County households cannot make ends meet—this is the perfect time to bring this event to our community," added Jenni Marsh, president & CEO of United Way of Delaware County. "It's been wonderful to see the community pull together in partnership—for the good of those who could really use a hand up."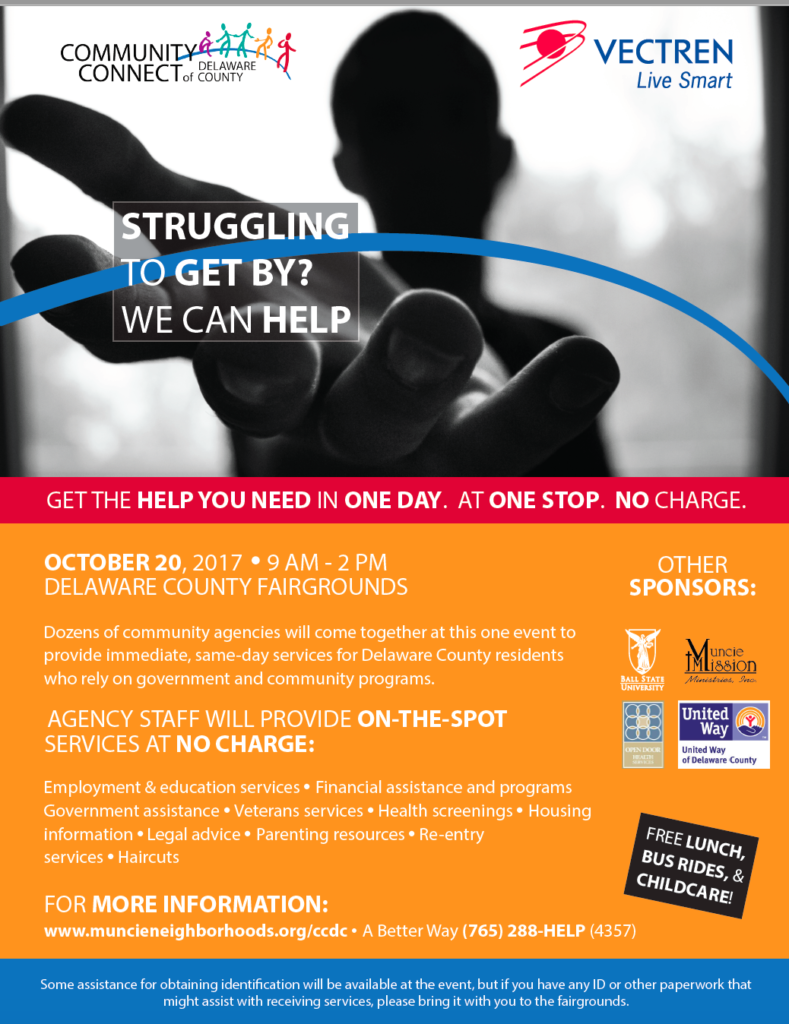 For more information, contact:
Frank Baldwin
Executive Director, Muncie Mission
765-288-9122 ext 222
FBaldwin@munciemission.org
Jenni Marsh
President and CEO
United Way of Delaware County
765-288-5586 ext. 302
jmarsh@uwdcin.org