By: Richard Crist—
Muncie, IN—The Youth Opportunity Center Foundation is pleased to announce the hiring of Jennifer Parks-Strack as Development Officer.
Parks-Strack has many years of experience in the non-profit sector including work with The Salvation Army and Goodwill Industries. She most recently worked for three years as a Development Associate at The Center for Youth in Rochester, NY.
Jennifer received a Bachelor's Degree in Business Administration from Cornerstone University and a Master's Degree in Public Administration from Grand Valley State University in Grand Rapids, MI. Jennifer describes herself as passionate about creating lasting change and intent on connecting people to resources and information. She and her husband, Ben, look forward to discovering all that Muncie has to offer.
The role of the Development Officer will assist with donor engagement and stewardship activities to enhance the work of the YOC Foundation.  Jennifer's strengths include technical and administrative support, communication, customer service, coordination efforts, data collection, and analysis.
"We are thrilled to have Jennifer join the YOC Foundation team," stated YOC Foundation Executive Director, Polly Craig. "She brings a wealth of knowledge and expertise from her work at multiple non-profits in Michigan and New York. Her experience in event planning, proposal writing, and donor stewardship activities will enhance our mission."
About the YOC
The Youth Opportunity Center Foundation exists to support the mission and priorities of the Youth Opportunity Center (YOC). The Youth Opportunity Center (YOC) is a nationally accredited, not-for-profit, juvenile behavioral treatment center serving children and youth from throughout Indiana. Celebrating 25 years of serving kids, the YOC, in partnership with area agencies, offers a complementary range of services on its 75-acre campus including residential and outpatient counseling, on-grounds accredited school, CASA (Court Appointed Special Advocates), juvenile court, day treatment program, and juvenile detention. The YOC is accredited by the Council on Accreditation (COA) and the American Psychological Association (APA).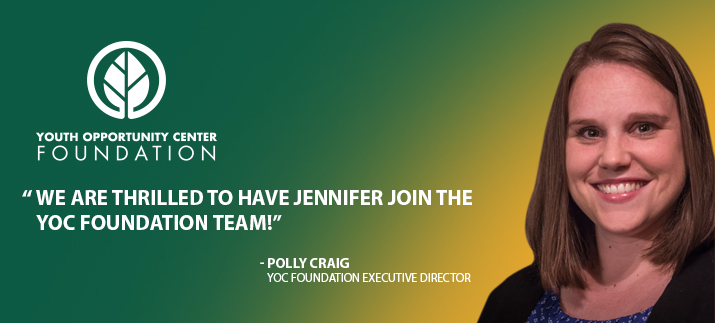 For more information contact:
Polly Craig, Executive Director – YOC Foundation
3700 W. Kilgore Avenue, Muncie, IN  47304
765-289-5437, ext. 3331 | pcraig@yocinc.org | www.yocinc.org