Muncie, IN – A group of Ball State photojournalism students are coming together on Saturday, April 22, (Earth Day), to spend a 24-hour period documenting and celebrating acts of volunteerism and "giving back" in the Muncie, Indiana area.
Shoot for Good Muncie uses documentary photojournalism as a celebration of community, volunteerism and positive human connections.
The NPPA (National Press Photographer's Association) Student Chapter at Ball State has been organizing the project and wants to reach out to local photographers, Muncie volunteers, or interested people who simply want to photograph and participate in something positive that day. If you are out on April 22nd and see someone doing something good, please consider sharing your image with the community. We'll be using the hashtag #SFGMuncie, as well as posting the images on our website, shootforgoodmuncie.com. Images will also be shown during a local exhibition on Wednesday, April 26 at 7-9 p.m. in the  Cardinal Hall at the L.A. Pittenger Student Center.
April 22nd will be a very special day in Muncie. The NPPA Student Chapter hopes that caring people throughout the Muncie area will be motivated to Shoot for Good.
Get those cameras and phones out. Let's see your great pictures!
@SFGMuncie for Twitter and Instagram.
Our Facebook site is https://www.facebook.com/ShootForGoodMuncie/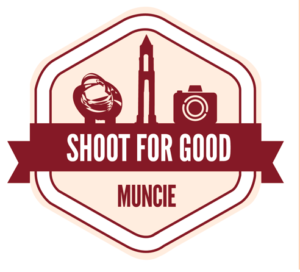 Contacts:
Kaiti Sullivan, Project Manager, Shoot for Good/Muncie: klsullivan@bsu.edu
Breanna Daugherty, President, Ball State NPPA Chapter: bldaugherty2@bsu.edu
Dr. Martin Smith-Rodden, faculty advisor, Ball State NPPA Chapter: mdsmithrodde@bsu.edu