By John Carlson—
You know you're about to get an impressive introduction to modern farming when your nephew's tractor, hauling a huge planter, pulls up sounding like a Boeing 737 approaching a gate at Indianapolis International.
"Holy moly!" you think.
Amid flashing lights, there are all manner of mechanical noises and whining turbo sounds. The whining comes from God-knows-what pieces of sophisticated machinery that are mechanically integrated into the vehicle.
I specify this fact to make one thing clear: The whining did NOT come from me who, despite being a decrepit little butterball of a man, risked a critical spike in blood pressure hauling my jittery butt what felt like twenty feet straight up into the tractor's cab.
Just sayin'…
All this happened recently where, since 1855, Nancy's family farm has occupied its portion of the flat plains of Central Illinois. Her nephew, Ben Briggs – at thirty-four a husband, father of two and holder of a bachelor's degree in agriculture from U of I – is the man in charge, working his 2200 acres, plus hundreds more for folks who trust him to care for their land. Meanwhile, his pretty wife, Abby, along with being a Mom and public school teacher, holds down the farm's domestic front.
A hard-working couple, in this they are representative of other hard-working, progressive farm families, including those here in Delaware County, who share the same challenges of farming these days.
So what's farming like?
I'd say bumpy. Where I sat, my head bounced off a metal strut in the tractor's cab a few times as we headed to seed another field. However, something instinctively told me wearing a motorcycle helmet in Ben's tractor would mark me as some kinda wussy to the boys down at the Farm Bureau. So instead, I plopped alongside Ben on the thickly cushioned jump seat and began peppering him with farming questions. What did I learn? For one thing, working from the early hours until one o'clock in the morning, Ben can plant as many as four hundred acres in a day's time.
That's a heap of planting.
And here's another fun fact. When Ben plants a huge field with, say, seed corn, he intends for every plant in that field to break the ground's surface on the very same day. Why? Because if some plants come up after the first ones do, the latecomers tend to act like weeds, choking off the early risers. I mean, who knew?
Here's another thing that surprised me. Ben's 290-horsepower tractor had five foot pedals sprouting from down low in the cab, yet he never touched them. Instead, he used a control stick, one not unlike an airplane's, to direct his rig with its twenty-four extended planters, which measure every bit of sixty feet across.
Perhaps most surprising, though, was the fact that while navigating a field, Ben's eyes often shot up to scan the four – count 'em – computer/instrument screens mounted to his immediate right in the tractor's cab.
What information did those screens convey? Lots! Fascinated, I laboriously wrote copious notes about each one's function on my iPhone's handy electronic notebook. Then, hitting a wrong freaking button, I accidentally deleted every last one. What did this major faux pas, this colossal pisser, mean? It meant hungry Americans are lucky that guys like Ben are growing their dinners instead of electronic whack jobs like yours truly. As far as I recall, though, these screens monitored seed depths, seed placement, field conditions and much, much more. It was vital stuff for a farmer to know, especially when the seed corn for a single day's planting can cost more than $14,000.
And another amazing thing …
By navigating the perimeter of a field twice, Ben's tractor became programmed to do it hands-off, leaving him free to monitor its proceedings, as if it were equipped with an autopilot! Which, technically, it is.
But not everything I learned about farming from Ben was of a technical nature. What had he packed for lunch? In a well used cooler, Ben kept water and caffeinated drinks, along with assorted snacks, plus ham and turkey sandwiches. Food-wise he abided by one inviolable rule: Never eat a sandwich before 10 a.m., because succumbing to that temptation will throw off your entire personal feeding schedule.
He also packed candy for his charming four-year-old daughter Olivia, who loves riding up in the cab with her Daddy, and will do so for hours at a time. His sweet son Will, almost two, also takes an occasional tractor lap, but pretty much zonks out in no time.
Also, while not a hunter, Ben sees lots of deer when he's out on the tractor. And despite the serious business of farming that chiefly occupies his thoughts, he  can wax rhapsodically about the stunning beauty of the surrounding woods when the calendar's pages flip to fall, and harvest-time colors paint the leaves.
And another thing … the time spent in his tractor working his land is by far his favorite. The bulk of his hours, though, are spent working on the books, the taxes and a multitude of other necessary things requiring hours at a desk.
But that wasn't the case this day.
This day, Ben was in his element, and all seemed right. Well, except for a sneaking suspicion his seed corn was being planted just a touch too deeply. Stopping his tractor, he was soon down the ladder, hands in his precious dirt like farmers immemorial have been, probing it with a sort of ruler that probably cost half-a-buck. Back in the cab, he punched adjustments into his planter to set the corn seed a quarter-inch shallower, then went on his way.
In a chancy business where so much depends on the weather, markets and more, was he happy he'd followed his late father, Bruce, and his mother, Nancy, into the family business and onto the farm? His smile answered that question.
"I can't imagine doing anything else," Ben said.
---
John's weekly columns are sponsored by Beasley & Gilkison, Muncie's trusted attorneys for over 120 years.
About Beasley & Gilkison
We listen, analyze your unique situation, and prepare a course of action that best fits your needs. Contact one of our attorneys to schedule a consultation, or for more information, call 765-289-0661 or visit our Facebook page or website at beasleylaw.com.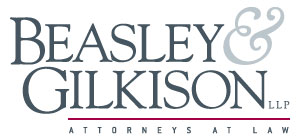 ---
A former longtime feature writer and columnist for The Star Press in Muncie, Indiana, John Carlson is a storyteller with an unflagging appreciation for the wonderful people of East Central Indiana and the tales of their lives, be they funny, poignant, inspirational or all three.  John's columns appear on MuncieJournal.com every Friday.