Editor's note: The following COVID-19 update is brought to you through a collaboration of healthcare partners including Delaware County Health Department, Delaware County Emergency Management Agency, Delaware County Office of Information, and other major healthcare providers.
Muncie, IN—Last week (Aug. 19–26), Delaware County dropped to a 3.8% positive testing rate for COVID-19. This rate is considerably lower than the previous two weeks, which had ranged from 6.2–8.2%. The CDC recommends positive testing rates should be well under 5% for at least 14 days before reopening.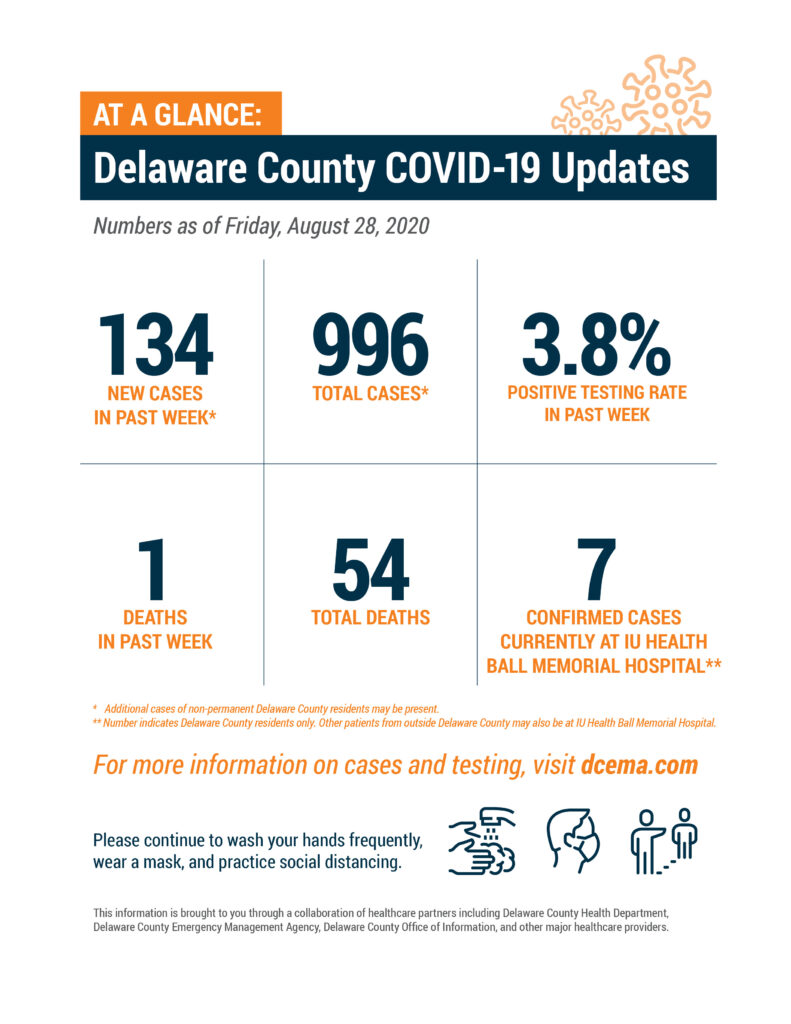 Despite the lower positive testing rate, the number of new cases in Delaware County continues to rise each week. Between Aug. 21 and Aug. 28, the Delaware County Health Department reported 134 new cases (compared with 81 new cases in the previous 7-day period) and 1 new death. As of Aug. 28, IU Health Ball Memorial Hospital is treating 10 confirmed cases, with three of those patients on ventilators; seven of the 10 patients are Delaware County residents.
The Health Department also noted that there may be even more cases present in the county than it is able to report, as Ball State University students who are currently residing in Delaware County but have permanent addresses in another county would likely be counted toward their home county's totals.
According to the university's COVID-19 dashboard, Ball State has upwards of 500 positive cases amongst its students and faculty, as of Aug. 31. Kathy Wolf, Vice President for Marketing and Communications, said Ball State's "health and safety protocols call for physical distancing and the wearing of face masks."
Last week, BSU President Geoffrey S. Mearns sent a letter to students addressing the influx of cases.
"It is clear from a review of the data that I have been monitoring on a daily basis that the steady increase in positive cases is not linked to academic classrooms or spaces, or the residence halls," Mearns said in the letter. "Instead, this concerning trend is apparently the result of poor personal choices some students are making, primarily off campus."
Muncie Community Schools—which currently has four active COVID-19 cases, as well as 71 students, 3 coaches, 1 administrator and 1 after-school instructor in quarantine—echoed similar concerns regarding the actions of students and staff outside of school.
"We continue to see the effects of positive cases as a result of contacts being made after regular school hours," said Lee Ann Kwiatkowski, Director of Public Education and CEO of MCS. "While in school, students and staff continue to do a great job of following guidelines and there are great things happening in classrooms."
Local health officials urge the community to continue to wear a mask and to practice physical distancing and hand hygiene.