By: Kate Elliott—
Muncie, IN — Ball State University's College of Communication, Information, and Media (CCIM) is hosting a series of dynamic speakers and interactive events to engage Muncie neighbors and the Ball State community in dialogue about issues and trends in journalism, strategic communication, and information technology.
As part of its Centennial Celebration, the University spotlights an academic college each month. In March, the university lifts up CCIM's lasting and innovative impact throughout Ball State's 100-year history. CCIM Dean Paaige Turner said the events — which are free and open to the public — reflect the college's focus on community engagement, innovative and inclusive learning, and meaningful connections with students and alumni.
"CCIM has a proud past, and a passionate sense of purpose drives us to a bright future. We will continue to build on our work to prepare thoughtful, creative professionals ready to lead tomorrow's media and communication fields," Turner said. "Throughout March, we are thrilled to bring thought leaders to inspire our community and ignite critical discussions.
"One of our students secured First Amendment activist Mary Beth Tinker, who 50 years ago ignited a national debate about student press freedoms. She'll be here, at Ball State, to talk about that historic moment, and during the journalism department's 50th anniversary — you won't want to miss it."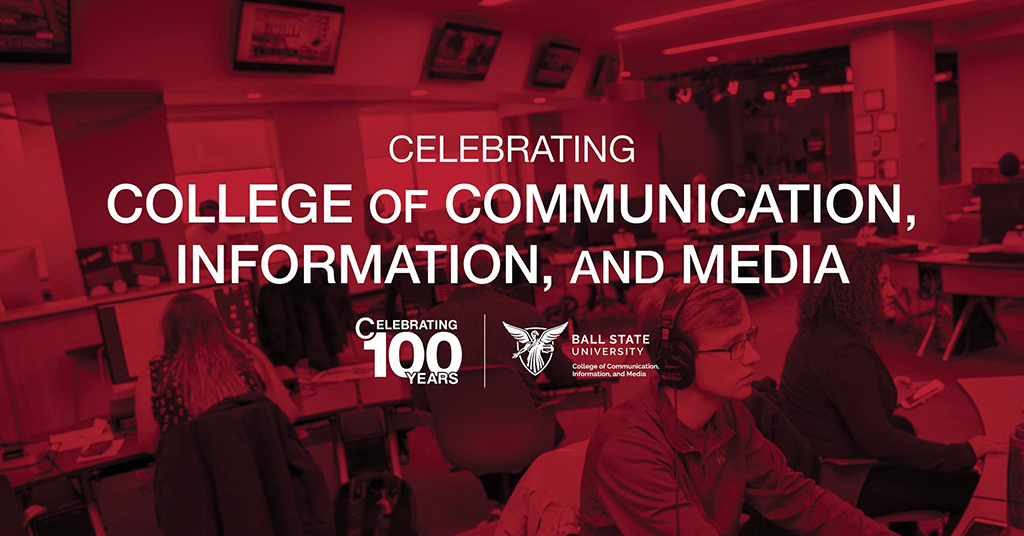 The lineup also includes alumna and investigative journalist Sandra Chapman; Dr. Karla Scott, director of the African-American Studies Program at St. Louis University; and Dr. Kathleen Hall Jamieson, who co-founded FactCheck.org. The college is pairing these public events with a series of networking opportunities for students to connect with alumni for one-on-one portfolio review and professional advice.
The entire college will spend Saturday, March 23, in service to Muncie's Thomas-Park/Avondale neighborhood. Student, faculty, and staff will engage in hands-on work at Habitat For Humanity properties, offer free family photos at the Ross Community Center and prepare meals and sort donations at the Muncie Mission.
CCIM's Centennial Spotlight Month events include:
March 12: Sunshine Week Speaker Sandra Chapman — 7 p.m. Tuesday, March 12, in the Ball State Alumni Center
Investigative Journalist Sandra Chapman from WTHR-TV Indianapolis will dig into her experience covering the high rate of childhood cancer in Johnson County, Indiana, since 2015. Two Franklin, Indiana, residents will join the Ball State alumna to discuss the impact of her reporting. The presentation is part of Sunshine Week (March 10-16), an annual nationwide celebration of access to public information.
March 16: CCIM Community Day — Noon to 3 p.m. Saturday, March 16, Art and Journalism, Letterman and Ball Communication buildings
Experience how commercials are made, tour the Ball State Daily newsroom, and meet the Indiana Public Radio team during CCIM Community Day. All are invited to this free event that gives you access to CCIM facilities and connects you with student organizations on hand to showcase work and answer questions about the student experience at Ball State.
March 22: Women Working in Technology Conference — 8 a.m. to 4 p.m. Friday, March 22, at the Ball State Alumni Center
Sessions will explore navigating roles within the technology sector and advocating for inclusion. Network and learn alongside a group of like-minded, inspiring individuals. Go to womenworkingintechnology.org to register and learn more about the event.
March 25: The 64th Annual Journalism Day (J-Day) Keynote: First Amendment Activist Mary Beth Tinker — 8:30 a.m. in Emens Auditorium
Free speech activist Mary Beth Tinker will speak about her experience as an eighth-grader who defended her First Amendment right to freedom of speech. The subsequent court case reached the U.S. Supreme Court in 1969, resulting in the landmark ruling that neither teachers nor students "shed their constitutional rights … at the schoolhouse gate."
J-Day is expected to draw more than 1,000 middle and high school journalists to explore this year's theme: "Retro/Relevant: Journalism then, now and forever!" The event celebrates both the 50th anniversary of the Department of Journalism and U.S. Supreme Court decision in Tinker v. Des Moines.
For more information, go to the Ball State Journalism Workshops website.
March 25: Communication Studies Speaker: Karla Scott — 7 p.m. Monday, March 25, Art and Journalism Building, Room 175
Director of the African-American studies program at Saint Louis University, Dr. Karla Scott will present, "Communication, Identity and Context: What We Bring to Dialogue Across Difference." Her talk will examine the process of human communication with a specific focus on social identity differences. She will share specific communication strategies to develop individual and institutional capacity to facilitate dialogue that can better address barriers and bridge divisions.
March 27: Letterman Lecture: Kathleen Hall Jamieson — 7:30 p.m. Wednesday, March 27, in Pruis Hall
The 10th anniversary of the David Letterman Distinguished Professional Lecture and Workshop Series welcomes renowned professor and author Dr. Kathleen Hall Jamieson, who is the Elizabeth Ware Packard Professor of Communication at the University of Pennsylvania's Annenberg School for Communication, the Walter and Leonore Director of the university's Annenberg Public Policy Center, and program director of the Annenberg Retreat at Sunnylands.
March 30: TEDxBallStateUniversity and CCIM/CAP Art Installation — 6-9:30 p.m. Letterman Building (limited seating)
CCIM students, faculty, and alumni are invited to hear about the latest trends and topics in communication and media industries and connect with top CCIM alumni, faculty, and students during TEDxBallStateUniversity. The theme for the event: Ideas for the Future.
For more information, visit the TedxBallStateUniversity.
During the event, CCIM will unveil an art installation designed by College of Architecture and Planning students. The one-of-a-kind piece will embody CCIM's innovative, student-centered, and community-focused spirit.
For a full list of Centennial events, go to bsu.edu/100.
About Ball State
Founded in 1918 and located in Muncie, Ball State is one of Indiana's signature universities and an economic driver for the state. Ball State's nearly 22,000 students come from all over Indiana, the nation, and the world, and its 780-acre campus is large enough to accommodate premier facilities and 19 NCAA Division I sports but small enough to ensure the friendliness, personal attention, and access that are the hallmarks of the University.