Muncie, IN—Frances Petty Sargent, 77, passed away on Wednesday, December 13, 2017 in Muncie. A devoted wife, mother, grandmother, community volunteer, and philanthropist, she will be dearly missed in the Muncie community and beyond by family and friends alike.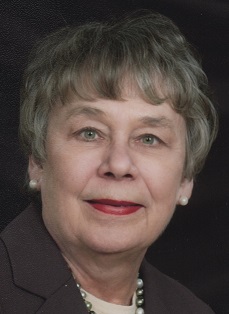 Frances was born on October 9, 1940 in Richmond, Virginia, the daughter of William Lang Bramble and Frances Huntley Bramble. Frances attended The Collegiate School for girls, graduating in 1959 and St. Mary's Junior College in Raleigh, North Carolina.  Following work in Richmond as an office manager and legal secretary,  Frances married Edmund F. Petty of Muncie, Indiana in 1967. She quickly became involved in the Muncie community, dedicating her time to various arts organizations and projects. In addition to Ed's two children, Edmund F. Petty Jr. and Carolyn Jill Petty, Frances and Ed had two children, Frank Ball Petty and Elizabeth Petty McClinchie. While raising her children, Frances dedicated time to serving on the board of Ball Stores which the Petty family owned and operated. Throughout their marriage, Frances, Ed, and their children spent significant time with the extended Ball family in Leland, Michigan. Leland remained near and dear to Frances' heart throughout her lifetime.
Following her husband Edmund's death in 1985, Frances honored his legacy with the establishment of the Edmund F. Petty Memorial Lecture Series at the David Owsley Museum of Art at Ball State University, Muncie Indiana. She was a founding member and president of the Museum's Art Alliance and continued to be a generous donor to the museum as well as a volunteer.
In 1987, Frances married Thomas A. Sargent with whom she spent the next three decades. She became step-mother to Sarah and Andrew Sargent.  The couple traveled frequently, often spending winters in Naples, Florida and visiting family in Leland, Michigan and Culver, Indiana. Affectionately known as "Gran Fran," Frances took great joy in spending time with her grandchildren. She had a thoughtful, caring, and encouraging spirit that endeared her to many others who also fondly referred to her as "Gran Fran."
Frances was passionate about honoring her family's history. She co-authored a book titled Stone on Stone which captured the memoirs of her mother-in-law, Margaret Ball Petty. Frances also dedicated herself to supporting the creation and evolution of Minnetrista in Muncie Indiana. In addition to serving for many years on Minnetrista's board of directors and philanthropically supporting the organization, Frances worked tirelessly as a member of the Oakhurst Advisory Committee, seeing through major renovations to the historic G.A. Ball family home. Over the years, Oakhurst and its surrounding gardens have become one of Muncie's most treasured gems, a testament—in part—to Frances' ongoing support and dedication.
Several recent accomplishments were particularly meaningful to Frances. The re-installation of the Passing of the Buffalo sculpture by Cyrus Dallin in the new Walnut Street roundabout in downtown Muncie was a fitting tribute to the Petty family as the piece had originally been donated to the City of Muncie in 1976  by the Margaret Ball Petty foundation in honor of Frances' late father-in-law Fred J. Petty and overseen by Frances' late husband Ed.  Additionally, just a few months before her passing, Frances was honored with the 2017 "Lifetime Achievement Award" at the Mayor's Arts Awards.
Frances' other community and civic contributions over the years were significant and included: A member of the Ball Memorial Hospital Foundation board of directors, member of initial board of WIPB-TV, member of board of directors of the Margaret Ball Foundation, member of the board of Historic Muncie, president of the Muncie Art Students' League, president and chairman of the Philanthropic Committee of the Alpha chapter of Psi Iota Xi Philanthropic Sorority, vice chair of the Indiana Humanities Council, member of various Ball State University campaign committees and the Fellows of the President's Club, member of the Muncie-Delaware County Chamber of Commerce, member of the board of directors of Indiana Citizens for the Arts, and founding member of the Muncie Center for the Arts (now Cornerstone Center for the Arts), among others. She established the volunteer program at the E.B. and Bertha C. Ball Center for University and community programs. A number of endowments and scholarship funds at various arts and cultural organizations in Muncie were started by Frances. Finally, Frances was a member of Muncie's First Presbyterian Church and served as a deacon.
Frances was also an accomplished artist in her own right, painting and studying each winter under Marco Bronzini in Naples, Florida.
Preceding Frances in death were her father, mother, and first husband Edmund F. Petty. Surviving family members include her husband, Thomas A. Sargent of Muncie; a sister, Elizabeth(Mann) Bramble Brown of Richmond, Virginia; a son,Frank(Angie) Petty of Traverse City, Michigan; a daughter Elizabeth(Michael) McClinchie of Westerville, Ohio; Edmund(Jane) Petty of New Rochelle, New York, Carolyn Jill(Chris Clayhold) Petty of Portland, Oregon, Sarah(Charles) Hetzel of Libertyville, Illinois and Andrew(Rebecca) Sargent of Malvern, Pennsylvania and thirteen grandchildren, Elliott, Edmund and Eli Petty; Margaret and Abigail Kaye, Maddy McClinchie; Alec Petty; Nick Petty and Zach Clayhold; William and Cecily Hetzel; Sylvia and Miranda Sargent.
Funeral Services will be held in Muncie December 28, 2017, at 11:30 am, at First Presbyterian Church, 1400 W. Riverside Ave.  Interment will follow at Beech Grove Cemetery.
Friends and family may call at First Presbyterian Church on Thursday, December 28, 2017, from 9:30 am until service time at 11:30 am.
The family suggests that donations in Frances' memory be directed to The Minnetrista Cultural Center and Oakhurst Gardens,1200 N. Minnetrista Parkway, Muncie, In 47303 or Passing of The Buffalo fund at the Muncie and Delaware County Community Foundation, 201 E. Jackson St. #100, Muncie, IN 47305.
Online condolences may be directed to the family at meeksmortuary.com.