By: The Woof Boom Radio News Team—
The Muncie-Delaware County Chamber of Commerce held a luncheon event Thursday at the Horizon Convention Center. Dr. Steve Baule, Superintendent of the Muncie Community Schools gave his "State of the Muncie Community Schools" report to local civic and business leaders.
Dr. Baule gave an overview of the current state of  MCS, and also shared many positive stories/statistics about MCS that often go over-looked. He began with the vision statement for MCS:
MCS with our community partners will provide each child an individualized, inclusive, digitally rich education within the scope of being full service community schools.—MCS Vision Statement
Major goals for 2018 include:
Implementing our community-based Strategic Plan
Move towards a more personalized and digitally-rich instructional program Improve the variety and rigor of our curriculum
Create and strengthen the partnerships necessary to ensure our students are ready to learn each day and families are able to be supportive of learning
Address our fiscal and facilities issues Better engage the public
Begin to develop a coherent corporation-wide professional development program
Improve student achievement
Ensure all students and staff are safe and secure
Dr. Baule said Indiana ranks 15th in the nation for students who graduate high school on time, even though the state ranks 49th in funding per student.  Student discipline issues were down nearly 20 % last year.  MCS added an "Eat Well After the Bell" program to provide hot meals to students after school. In September, MCS and Chartwells served 7,449 hot meals to students. The food service component is continuing to operate in the black.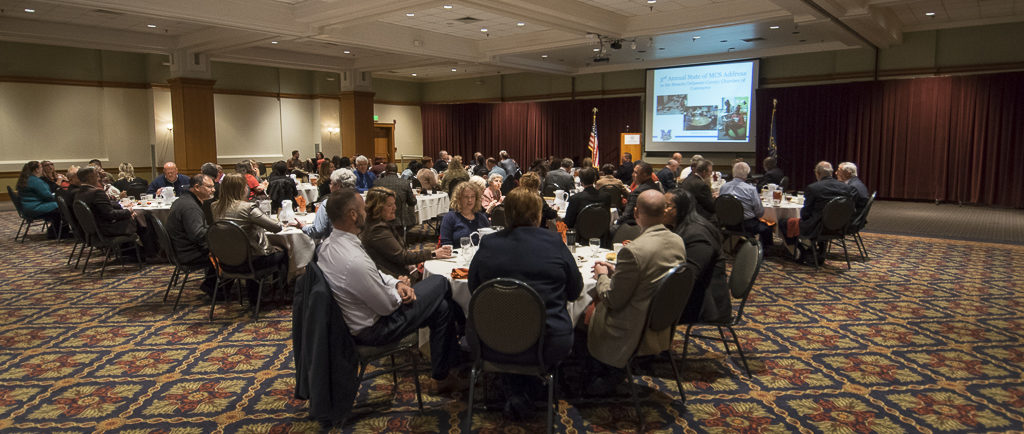 MCS introduced a new academic television program for students interested in TCOM, through a class taught by Anna Pichardo and a partnership with Steve Perry. All MCS 4th graders are taking tours of the David Owsley Museum of Art this year.
During his presentation, Baule repeatedly remarked about the many community partnerships MCS has developed. One such partnership is the "Before and After School Care" program, through a partnership with the YMCA and the Boys & Girls Club of Muncie. The program provides "on site" care for children after school.
In 2016, MCS staff obtained $1,071,576 in grant funding for the school system. In 2017, that amount increased to $1,115,388 though 86 individual grants obtained by faculty and staff.
Over the past year, MCS has been working toward establishing an MCS Education Foundation. Through the  efforts of Mark Ervin, Attorney for Beasely & Gilkison, who volunteered to help establish the foundation, the idea is to start an endowment for MCS long-term needs as well as immediate needs. The Community Foundation of Muncie and Delaware County will manage the donations.
Initial board of directors of the program  include: Joseph Anderson, past president Muncie NAACP; Dr. Marlin Creasey, retired MCS superintendent; Carey Fisher, community member; Tom Foote, president of the MCHS alumni association; Heidi J. Hale, local business owner; Ron Howell, MCS teacher and coach; Rob Keisling, MCS Board member – elect; Dr. Dea Moore-Young, MCS administrator and parent; Kira Zick, former MCS teacher and parent.
You may listen to Dr. Baule's entire presentation below and view his slides at this link.